Tom Hiddleston Says Relationship With Taylor Swift Is "Authentic" Amid Non-Dating Rumors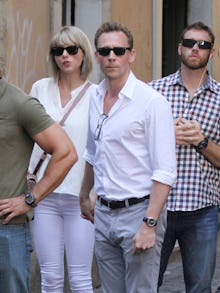 Fake! Staged for publicity! Suspiciously modeled after various romantic comedies! All part of an elaborate performance art thing! 
These are just a few of the accusations that have been hurled at the picture-perfect union of Tom Hiddleston and Taylor Swift, otherwise known as "Hiddleswift," over the past month.
But Tom Hiddleston has a solid defense against these very cynical theories: His relationship with Taylor Swift is 100% "authentic," a totally natural word to use to describe your sexual relationship with another person. 
At San Diego's Comic-Con this past weekend, People asked him how he felt about all of the media attention he's been getting over the past few weeks — not just for his relationship with Swift, but also for his upcoming film, Kong: Skull Island. He had this to say:
I don't know, it comes down to being authentic. Everything you do you have to make sure you truly believe in it and as long as you know that, it doesn't matter what anyone else says about it because the nature of being a public figure is that everyone will have an opinion about anything you do.
"As long as you know why you've done something and you've committed to it with authenticity, then you're okay," he added. Could the "something" he's referring to here be his highly publicized relationship with American recording artist Taylor Swift? It's possible!
Could it be the chocolate chip cookie pictured in the above GIF? That is also possible.
Read more: