What Time Does Bernie Sanders Speak at the Democratic Convention?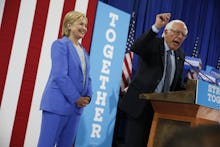 The Democratic National Convention kicks off Monday in Philadelphia, and the organizers have wasted no time marching out the big names. 
The Monday night lineup looks like a who's who of Democrat stars, with Michelle Obama, Massachusetts Sen. Elizabeth Warren, and Vermont Sen. Bernie Sanders speaking in succession, according to presumptive nominee Hillary Clinton's campaign.  
There are conflicting reports in regards to timing and scheduling. The official DNC website suggests Sanders will appear around 8 p.m. Eastern, before Obama. 
However, the Clinton campaign released a schedule that suggests Sanders will speak closer to midnight due to a reorganization of speaker order and the addition of Warren to the roster. 
Sanders — Clinton's unlikely rival in the fight to be the Democratic presidential nominee — has endorsed Clinton, and is expected to throw his full support behind the nominee in an attempt to unite a fractured party.
Supporters of the populist, socialist senator from Vermont have loudly declared their dissatisfaction with Clinton — a sentiment that was augmented by the leaking of Democratic National Committee emails Saturday. The correspondence revealed insiders, Democratic National Committee Chair Debbie Wasserman Schultz included, were complicit in trying to undermine Sanders' campaign. 
"Supporters of Sen. Bernie Sanders were out in full force Monday morning at the Democratic National Convention, chanting his name at state delegation breakfasts and revolting against outgoing ... Wasserman Schultz — creating an ugly scene of disunity right at the outset of the four-day gathering," Mic's Emily Cahn reported from Philadelphia. 
The Democratic party base — and no doubt the Clinton camp, too — eagerly wait to see if Sanders' speech will successfully shepherd his loyalists in his former opponent's direction.
Read more: