Bernie Sanders Delegates Raise Hell in Philadelphia as DNC Email Scandal Rages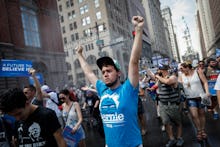 PHILADELPHIA — Supporters of Sen. Bernie Sanders were out in full force Monday morning at the Democratic National Convention, chanting his name at state delegation breakfasts and revolting against outgoing Democratic National Committee Chair Debbie Wasserman Schultz — creating an ugly scene of disunity right at the outset of the four-day gathering.
Democrats were hoping to portray a united front here after a messy Republican National Convention in Cleveland, where some Republican delegates booed the nomination of Donald Trump.
But if Monday morning was any indication, the DNC will look just as divided — or even more so — given the thousands of Sanders delegates who are not only protesting small state delegation meetings, but debating whether to engage in a larger protest on the convention floor. 
"There is a healthy section of the delegates that is for having some sort of expression of disapproval, ranging from something voiced to something quietly visual, all the way to something that's a little bit more rigorous," said Karen Bernal, a Sanders delegate from California. 
Bernal spoke during a Monday morning news conference held by the Bernie Delegates Network, a group that seeks to take the pulse of the more than 1,900 pledged Sanders delegates.
She said she's heard that the Sanders campaign is urging delegates not to make a scene on the convention floor, but added that delegates may not heed that call.
"I actually have heard through the grapevine from members of his campaign about their pressuring us to not be involved in protests, not to be so overt in our expressions, and what my message to them has been is that ... my job is to make sure that the wishes of my delegation are heard," Bernal said.
However the group, which stressed that it does not want to see Trump in the White House, was unable to articulate what a visual sign of protest would accomplish once Hillary Clinton is confirmed as the Democratic nominee.
"Social change that's worth a damn always comes from the bottom up," said Norman Solomon, a Sanders delegate from California and the national coordinator of the Bernie Delegates Network. "As beloved as Bernie is, his brilliance includes the fact that he's not running the show."
Sanders, for his part, is set to address the DNC Monday night in a prime-time address, where he's expected to call for the party to unite behind Clinton and defeat Donald Trump.
But even hearing that message from their candidate's mouth is unlikely to sway some of the delegates here in Philadelphia. 
"I'll vote for Bernie, and I really believe Bernie will be on the ballot in November," said Rev. John Stanley, 40, a Sanders delegate from Wisconsin who said he's been on a hunger strike since July 17 to try and ensure Sanders is the Democratic nominee. "I won't boo Bernie, but I really believe that Bernie is the choice and Hillary is someone who should not be president."
Read more: