When Will the iPhone 7 Come Out? Signs Point to One Date, and It's Soon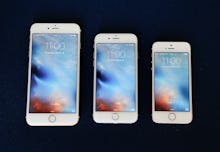 The iPhone 7 is coming, and it's coming soon. There's actually a rumored date on the calendar now. Evan Blass — a mobile reporter for VentureBeat who is known as a fairly reliable source for Apple rumors — tweeted the speculated launch on Saturday. 
He later clarified that when he said "release" he meant retail release, not the unveiling. "To be even more specific, it should happen on Friday, Sept. 16," he tweeted. Of course, since Apple doesn't announce its releases until right before they happen, we will likely have to wait a few more weeks to learn the official unveiling date, let alone the date the device will go on sale. 
September is Apple's preferred month for iPhone releases. In 2015, the iPhone 6s and iPhone 6s Plus were unveiled Sept. 9, and the phones went on sale Friday, Sept. 25. Before that, the iPhone 6 and 6 Plus were unveiled on Sept. 9, 2014, and went on sale Friday, Sept. 19. One of the few exceptions to that rule is the iPhone SE, which was unveiled and put on sale in March. 
The Sept. 16 date, while early, is in line with what we've seen before. What isn't in line with expectations is the latest rumor about the iPhone's name.
The next iPhone might not even be called the iPhone 7
New rumors suggest that the next version of the iPhone might be called the iPhone 6SE. German Apple news site Apfelpage reports that its sources in China have said that the phone will have that moniker. While Apple might not go so far as to call it the iPhone 6SE, Benjamin Mayo from 9to5Mac suggests that Apple might give this phone a new name like the iPhone 6X or add the word "Pro" to the name in some capacity. 
Read more: