DNC Email Scandal Is Being Investigated by FBI — Here's the Latest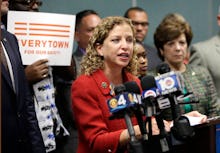 The Federal Bureau of Investigations is looking into the hack that exposed thousands of Democratic National Committee emails, the Associated Press reported. 
In a statement, the agency said it was "investigating a cyber-intrusion involving the DNC," and that "a compromise of this nature is something we take very seriously," according to the AP.
On Friday, WikiLeaks made public more than 19,000 emails from seven DNC accounts — the content of which suggested DNC staffers were looking for ways to thwart Vermont Sen. Bernie Sanders' presidential campaign. On Sunday, Florida Rep. Debbie Wasserman Schultz resigned from her position as chair of the Democratic National Committee.
Clinton's campaign blames Russia: Hillary Clinton's campaign is alleging the leak was carried out by Russian hackers looking to bolster Republican presidential nominee Donald Trump's campaign, according to CNN. 
In June, DNC officials and cybersecurity experts said Russian government hackers broke into the DNC's computer network and accessed opposition research on Trump, the Washington Post reported. At the time, a Kremlin spokesperson reportedly said, "I completely rule out a possibility that the [Russian] government or the government bodies have been involved in this."
On Twitter, Trump said it was "the new joke in town" that Russia led the DNC email hack.
Read more: