What Bernie Sanders Will Say to Unite Democrats After the DNC Email Scandal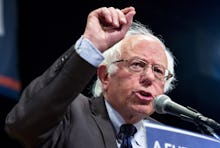 PHILADELPHIA — Bernie Sanders hoped to use his primetime address Monday at the Democratic National Convention here to highlight the moral victories achieved by his progressive insurgency while urging his supporters to consolidate behind Hillary Clinton and defeat Donald Trump.
But the leak of internal emails showing Democratic National Committee staffers disparaging Sanders and discussing ways to undermine his White House bid has reopened the wounds of Clinton and Sanders' fierce primary battle, complicating the Vermont senator's task.
Fueled by rage over the email scandal and not mollified by DNC chair Debbie Wasserman Schultz's resignation, anti-Clinton demonstrators have flocked here to protest what they consider a rigged nominating process, while some Sanders delegates have signaled plans to disrupt proceedings inside the Wells Fargo Center with possible floor protests and a challenge to the vice presidential nomination of moderate Sen. Tim Kaine of Virginia.
It's hardly the image of unity Democrats hoped to project after the often-raucous Republican National Convention in Cleveland last week. But might Sanders be able to temper his supporters' fury when he takes the stage at the Wells Fargo Center on Monday?
Adam Green, a co-founder of the Progressive Change Campaign Committee, said Sanders should stress his campaign's successes in moving the party to the left on key economic populist issues.
"There's process, and there's substance. Despite some process flaws, progressives won the day on the substance," Green said. "The fact that we have a Democratic Party united around debt-free college, expanding Social Security, breaking up too-big-to-fail banks and the public option shows that we won."
Indeed, Sanders' campaign said in a statement he would sound much the same themes, hailing "the most progressive platform in Democratic Party history" and emphasizing the need to continue fighting for "principles of economic, social, racial and environmental justice."
Meanwhile, expect Trump to come under withering attack. Seeking to prevent the GOP nominee from making inroads among his populist-minded supporters, Sanders has cast the billionaire businessman's defeat as a moral imperative. On ABC News' This Week on Sunday, Sanders highlighted fundamental differences between his philosophy and Trump's, citing issues like the minimum wage and health care reform.
During the GOP convention last week, Sanders castigated Trump as hypocritical for espousing opposition to free trade and outsourcing while manufacturing his own products abroad, and also sought to rally liberal opposition to the real estate tycoon by charging he's "made bigotry and divisiveness the cornerstone of his campaign."
For many Sanders backers, simply stopping Trump — who's now polling even with or ahead of Clinton in post-RNC polls — will prove reason enough to vote for the former secretary of state. A Pew Research Center poll in early July found 85% of Sanders' primary backers prepared to vote for Clinton — a sharply different result from some earlier surveys suggesting nearly half of his voters weren't willing to support her.
But an anti-Trump pitch won't suffice for all who felt the Bern.
"I know people are saying that if you don't vote, Trump is going to win. But there are other options, like [Green Party candidate] Jill Stein," said Tiffany Grimes, a protester who came to Philadelphia from Farmingdale, New York. "That's who I will have to choose, because I will not vote for Hillary."
Wesley Irwin, a 36-year-old Sanders delegate and state House candidate from Seattle, said he'd be unmoved by Sanders' appeals for unity.
"I think he's going to talk about the importance of maintaining the revolution. He's probably going to try to make it sound as if Hillary is the better candidate than Trump, which is fine. He has every right to do so. However, Hillary is not capable of defeating Trump, in my view, according to the polls and according to her accountability and according to her credibility," Irwin said.
Irwin rejected the notion that Sanders backers should make defeating Trump their chief priority.
"I think we have to keep fighting and voting our conscience first," he said. "If people continue to settle for the lesser of two evils, we're going to get evil."
Sabrina Sayeed contributed reporting.
July 25, 2016, 2:14 p.m. Eastern: This story has been updated.
Read more: