Buzzkill Brewing: Beer Bottles Will Soon Display Calories and Nutrition Facts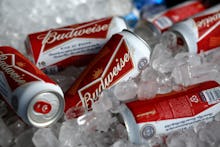 Curious how many calories are in the Budweiser you're drinking? Search every inch of the can and you still won't be able to find the beverage's nutritional info, ingredients or even its alcohol-by-volume on display. 
But not for long. Six major beer companies (which together represent 80% of beer sold in the U.S.) announced their products will carry nutrition labels in the future, NPR reported. Our sweet, sweet ignorance of the calories we imbibe will soon shatter. 
The "Voluntary Disclosure Initiative," spearheaded by the Beer Institute, aims to increase transparency, a press release stated. Products will show calories, carbohydrates, protein, fat and ABV. Freshness information and an ingredients list will be available on a website (referenced on the product) or through a QR code. Expect to see these new labels roll out in the next three years. 
The upside: Listing ABV right on the product could help consumers select less-alcoholic beers if they don't want to get too tipsy (or more-alcoholic ones if they want to get the most buzz for their buck). For example, beer newbies may not know that IPAs and stouts usually have a higher ABV than light-colored ales and lagers. And health nuts will certainly find the nutritional information to be a boon.
The downside: Calories in beer can be a real buzzkill. Drinking just two beers will set you back 320 calories, according to a calculator on alcoholic.org. And doing the math to keep calories in check might not make consumers any happier — lower-calorie options like Miller Lite and Corona Light (both 100 calories) probably won't please die-hard cicerones. 
If previous studies on menus displaying calories are any indicator, posting calories on a Corona may not drastically change drinking habits. Two 2015 studies revealed that menu calories did not change what consumers ordered, Eater reported. But requiring restaurants to list nutrition did have one positive impact: Restaurants began to offer more lower-calorie options. 
Will brewers feel motivated to make their libations healthier? We'd cheers to that. 
Read more: