Magnificent Coloring Day Lineup: Who's Performing at Chance the Rapper's Chicago Festival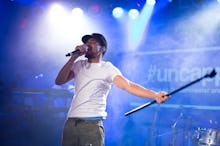 Chance the Rapper will host the first ever Magnificent Coloring Day music festival on Chicago's south side, featuring John Legend, Alicia Keys, Skrillex, Tyler the Creator, Young Thug, 2 Chainz, Lil Wayne and several special guests. The impressive lineup will take the stage September 24 at the U.S. Cellular Field for a day of music, food and hometown glory with Chance. 
The festival's name borrows from the Chicago-bred hitmaker's latest album Coloring Book, released in late May. Chance shared the festival announcement with fans across social media on Monday morning: 
The Magnificent Coloring Day festival will sell tickets through Chance's website later today, Fader reported. The all-day event lands in the midst of Chance's Magnificent Coloring World tour. That tour didn't include any south side Chicago tour dates, leaving the rapper's most loyal fans upset about his lack of representing his hometown. But it appears the disappointment was misplaced: Chance always saves the best surprises for his hometown.
Previously, on the heels of his latest album release, Chance converted an old Chi-town warehouse into a carnival for fans. Consequence of Sound reported the event featured "flashing lights, dancers, a live choir, and the colorful set from Donnie Trumpet & the Social Experiment's 'Sunday Candy' music video."
The announcement of his upcoming bigger, bolder version of Chance's ongoing Coloring Book celebration whipped fans into a frenzy of anticipation across Twitter on Monday. Good luck to all those competing with the die-hards for tickets.
July 25, 2016, 2:36 p.m.: This story has been updated.
Read more: