This Tinder Scam Is Swindling Thirsty Users Out of Serious Cash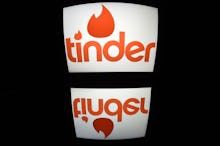 With false promises of scantily clad women and verified accounts, these Tinder scammers are preying on the thirsty — and your misguided swipe could cost you a pretty penny.
Security firm Symantec pointed out on Thursday that "in recent weeks" spam bots on Tinder are asking users to get "verified" — but instead, if users complete this phony verification process, it charges them $118.76 a month for an online porn subscription. 
How to spot the scam: The first red flag, according to Symantec, is if someone slides into your Tinder messages with casual lead-ins like "Wanna eat cookie dough together some time?" After buttering you up with flirty messages, the Tinder bot will ask if you're verified by the app. 
"You haven't heard about it?" the spam bot said in one of its schemes, according to Symantec. "It's a free service Tinder put up, to verify the person you wanna meet isn't a serial killer lol."
The spam bot will then ask the user to click on a link, which navigates them to a website. According to Symantec, "most" of those sites include the word "Tinder" in the URL in an attempt to appear legit. Symantec found 13 different "Tinder Safe Dating" websites. 
This external webpage pledges that it is a free service and that, once verified, the user will obtain a woman's contact and social media information. To finish the process, they have to create a username and password and provide an email address and credit card information.
According to the fine print (always read the fine print), by completing this "verification" process, the user's credit card will be charged by three different websites for online porn, which totals to nearly $120 a month. 
Congratulations, you're a verified sucker.
As Tinder points out in its Safety page, users should "ignore any request to send money" and avoid navigating to third-party webpages from within the app. 
Read more: