Dallas Police Applications Triple After Chief Tells Protesters to Apply for Jobs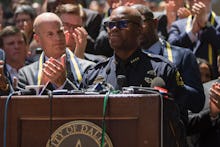 When Black Lives Matter protests erupted in Dallas a little over three weeks ago, Dallas Police chief David Brown tried to motivate protesters to get involved with law enforcement. 
"Serve your community," Brown said at a press conference following the July 7 shooting that left five police officers dead. "Don't be a part of the problem. We're hiring. Get off that protest line and put an application in."
People seem to be heeding Brown's request. Three weeks after Brown's speech, applications to the Dallas Police Department have tripled, according to the Washington Post. It's a turnaround from recent months, when the department was reportedly forced to cancel training academy classes for a lack of recruits.
From July 8-20, the police department received nearly 40 applications a day — a big increase from the eleven a day the department received from June 8-20, according to statistics the department posted on its Facebook page. 
That's a 344% increase in job applications since the deadly police shooting.
The police department received 467 job applications in the 12-day period from July 8-20, with new applications still coming in daily, according to the Facebook post. As the Washington Post pointed out, it's not known whether the applicants are protesters or if they have any connection to the Black Lives Matter movement. 
Putting an application in is the easy part. Before applicants can set foot in the police academy, they have to undergo a background check, a drug test, a lie detector test, a psychological and physical evaluation and pass the civil service test. 
Read more: