DNC Email Leak Shows Exchange Appearing to Mock a Black Executive Assistant's Name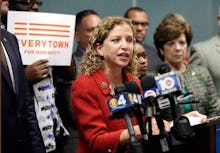 In the latest revelation from the Democratic National Committee email leak, an exchange between DNC finance chair Zachary Allen and finance chief of staff Scott Comer appears to show the two making fun of the name of a black executive assistant.
Under the subject line "DNC LGBT Event," Allen writes, "LaQueenia is a NAME!" referring to LaQueenia Gibson, identified as an executive assistant in a prior email in the thread. "I'm sorry, boo," he continues. "I hope you got a raise with this title."
Comer responds, "LaQueenia is already my favorite. And I did. Praise the Lord," with Allen returning the message with a "Yaaaaaaas kaween."
The email comes during a time when many are speaking out about the Clintons' track record with people of color and the issues that affect them. 
On Sunday, singer Shamir called out Clinton for what he believes to be her subtle racism, characterizing the candidate as the kind of person who wouldn't shoot a black person (implying Trump is someone who might), but would readily lock her door if she saw a black person on her lawn.
And while Clinton isn't included in the incriminating exchange regarding Gibson, as the party's presumptive nominee, she'll take the heat for any foul play from the DNC.
Mic reached out to LaQueenia Gibson and Zachary Allen for comment and will update this story if we hear back. Scott Comer declined to comment on the record.
Read more: