When Will Hillary Clinton Speak at the Democratic National Convention?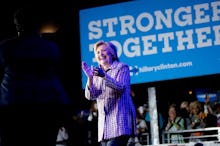 On Thursday, Hillary Clinton will finally officially accept the nomination by the Democratic party to be their nominee for the presidential campaign. This is a nearly decade-long quest for the candidate, who first sought the nomination in the 2008 election, but ultimately lost to President Barack Obama. 
Clinton will address delegates on Thursday, the convention's final night. Coverage from major networks begins at 10 p.m. Eastern and is scheduled to include both Clinton's introduction by her daughter, Chelsea, as well as the candidate's keynote address. 
Current scheduling suggests Clinton will speak at approximately 11 p.m. Eastern.
Clinton's task at the convention — aside from winning over supporters and solidifying the support of those on the fence — is twofold. 
The first of these involves damage control following the Democratic National Committee's email leaks Saturday, which revealed party insiders tried to undermine the rival Democratic campaign of Vermont Sen. Bernie Sanders.
The scandal has left DNC Chair Debbie Wasserman Schultz with few options but to resign at the conclusion of the convention.
The second of these, perhaps more Herculean and crucial, is to win over Sanders supporters, many of whom vehemently oppose Clinton, who they regard as a technocrat and part of the establishment. In essence, she is the antithesis to the populist, anti-establishment and socialist that is Sanders. 
Sanders supporters exposed the extent of the party's divide by starting the DNC with protests in Philadelphia on Monday. They chanted his name outside official events associated with the convention. 
Despite Sanders' endorsing Clinton, his supporters remain disaffected. 
Given party infighting, the success of Clinton's speech is even more crucial than pundits might have anticipated. It is no coincidence the theme of the convention is "United Together."
Uneasy lies the head that wears the crown.
Read more: