Police Increase Presence in Queer Spaces Post-Orlando — But Not Everyone Feels Safer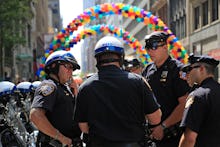 On June 18, a crowd of peaceful rally-goers marched from New York City's Grand Central Station to the LGBT Community Center to commemorate the victims of the shooting at Pulse nightclub in Orlando, Florida. Outside the community center, a police officer stood watch, an assault rifle slung over his shoulder.
The irony of having an assault weapon only feet from the entrance to the LGBT center wasn't lost on protesters.
In a video of the event posted to YouTube, one attendee leads a call-and-response. "Whose safe space is this?" she asks. "Ours!" the crowd responds. 
In the weeks since the attack in Orlando, police have increased their presence in LGBTQ spaces. Given New York City's high visibility and susceptibility to attacks, security and surveillance have become as common in gay bars as cheap drinks and disco. Mic spoke with a handful of owners and employees at queer establishments across the city, who said they have hired more security personnel and increased screening on backpacks and bags since the June 12 attack. While some patrons appreciate the increased police presence, others question whether empowering the police is the best route for queer safety.
"After the Orlando incident, the Village was basically a brick: police, bomb squad trucks, armed men with machine guns," said Adam Siciliano, a bartender at Boots & Saddles in the West Village. "I remember the day after it happened, I had to be escorted in and out of my job with a man with a machine gun." 
But the increased watchfulness has outlasted the immediate attack. Joe Ferrante, who has kept the front door of The Hangar secure for 9 years, said that queer bars across town have upped their security, though he questions the value of doing so. 
"How much can you stop if someone rolls up in here?" Ferrante said. "It only takes a few seconds to do so much damage."
Shelby Chestnut, the director of community organizing and public advocacy for New York City's Anti-Violence Project, said in a phone interview that policing queer spaces may produce an opposite effect of that intended — it makes many people feel less safe.
"The message that we're sending by increasing police presence is that what happened in Orlando will be the new normal and it's not the new normal," Chestnut said.
As queer beachgoers celebrated Independence Day in the historically gay Riis Beach in Far Rockaway, Queens, police arrested Brooklyn photographer Krys Fox for public nudity. During the arrest, officers carried Fox off the beach hanging by his towel as he screamed for help.
The arrest, Fox said, turned a safe haven into a place of trauma. "I got married in 2011 at the same spot that it happened," Fox said. "And I will never be able to be there again without remembering what they did to me."
One frequent Riis-goer, Charlie Solidum, called the increased police presence on the beach, which includes officers on horses, "terrifying."
While increased security will affect all queer people, queer people of color will be forced to bear an unfair proportion of the policing burden.
To show that they were not scared to go out and dance after the tragic shooting in Orlando, Matthew Shields, 28, and his friends went out the following Friday in New York City. Shields is of mixed heritage — he's black, white, Puerto Rican and Chinese — and sported an unshaven look when he approached the front door of Metropolitan Bar in Brooklyn. There, he encountered a security guard who singled him out and searched his bag while allowing others to enter unchecked.
Shields believes that his skin color played a role in why he was searched:
"I wasn't being treated like I was being protected from a threat," Shields said. "I was being treated as the threat itself. After the door experience, it turned into this spiral of paranoia. I'm thinking 'Is this what other people are thinking? Are other people feeling unsafe by my presence?'"
Shields sent an email the next afternoon in which he recounted the incident. He says that Metropolitan has neither returned the email nor acknowledged his request to speak with the manager. He does not plan on returning.
"I don't believe that surveillance is a passive act without consequences — surveillance causes intimidation," Shields said. "Surveillance is not some passive thing that just happens."
According to Metropolitan owner Steven McEnrue, the bar has always searched customers' bags when entering the bar. But searches have gotten more thorough since Orlando; security personnel now search bags for weapons and open water bottles filled with alcohol.
"Some people feel that their privacy is violated by this, but overall most people know that it is to ensure their safety, as well as to protect our business," McEnrue said in a statement.
However, as Shields' case illustrates, surveillance can transform queer people into a threat to be investigated. Security that unfairly targets queer people of color reminds people in this community that they are not to be trusted, that their presence warrants suspicion.
However, according to Stacy Lentz, one of the co-owners of the historic Stonewall Inn — the birthplace of the modern LGBTQ rights movement — having police presence outside the bar has not had a negative impact on patrons. For the first two weeks after Orlando, officers with machine guns and 3-4 squad cars sat across the street in front of a small park. On a sunny Wednesday afternoon, two black security guards stood watch as patrons walked in and out of the establishment.
Lentz said the police have not arrested anyone since taking their posts. She said the bar had worked with the NYPD to assure that queer officers and officers of color would be a part of the patrol outside.
"I do understand how people don't always feel safe, but in this instance it's been an overwhelmingly positive experience on both sides," Lentz said in a phone interview. "They know their role and sadly they know how some people in the queer community feel about them."
According to some activists, police have not collaborated with local groups to determine what security measures were necessary. At the New York City Pride March on June 26, scores of officers with assault weapons monitored the parade along Fifth Avenue. Chestnut said that the NYPD determined what police presence at the 2016 Pride March would look like without community input.
"There wasn't a moment where LGBT people were asked what they want the solution to be to this violence," Chestnut said. "Some LGBT advocates were briefed and told the anti-terrorism unit would be handling things and they thought this would be the safest Pride ever. It was just stated to us that that's the answer."
Historically, LGBTQ people have a strained relationship with police. The New York City Anti-Violence Project recently released its annual Hate Violence Report, which demonstrated just that LGBTQ people's relationship with the police is rife with mistrust.
Only 41% of survivors of hate violence reported their experience to the cops. Of those that did, 80% told AVP that they were met with either indifference or hostility. Ten percent said they experienced police misconduct, including unjustified arrest, excessive force and entrapment. One hundred and twenty-six survivors reported negative police behavior including verbal abuse, physical violence and police using slurs against them. Three percent even said they experienced sexual violence from officers after they reported hate violence to the authorities.
And the situation gets even more complicated when you factor in immigration status. While New York City police officers do not cooperate with Immigration and Customs Enforcement in detaining immigrants, that is not the case nationwide. In other states, a casual encounter with the police could mean detainment and deportation.
"For trans and queer people of color who are going to these bars as sanctuaries, they don't want police outside, especially if they're undocumented," said Thanu Yakupitiyage, senior communications manager at the New York Immigration Coalition.
The divide between those who feel comfort from police presence and those who do not rests on questions of privilege and exposes a deep racial fault line in the LGBTQ community. In the age of marriage equality and #BlackLivesMatter, this increased surveillance highlights the rift between queers who benefit from the state and those who do not. 
"The entire LGBTQ community, particularly white and upper class LGBT people are being forced to reckon with the immense amount of racism that exists between these communities," Chestnut said.
"You have police walking the streets with automatic weapons, lining the streets, standing next to signs that say 'We are Orlando' or the names of the victims," they added. "Aside from it being slightly ironic, it speaks to this country's way of protecting people: sending police in and not thinking of the effects that can have on communities of color, queer communities and trans communities."
Read more: