This Humans of New York Post About a Woman's Sexual Assault Is Going Massively Viral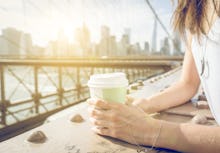 Last Sunday, Humans of New York shared a young woman's story about her first sexual experience, which was nonconsensual and fraught with regret. The woman's Facebook post immediately went viral.  
In the post, the anonymous woman recalls how her teenage hookup buddy was constantly pressuring her to have sex. 
"I was terrified. I kept saying: 'maybe,' 'maybe,' 'maybe.' Then he said: 'No more maybes. Let's flip a coin.' My stomach sank," the post said. "After we finished ... I went home and filled up a whole page in my journal. I wrote in purple sharpie, over and over: 'It didn't happen.'" 
The Facebook post sparked an intense debate about what does and doesn't constitute consensual sex. The story makes it clear that some personal boundaries were crossed, although the protagonist herself never used the word "rape" in her story. 
"She did not say no, she went along with the coin toss and then regretted it. It's unfortunate, but not rape," said Facebook commenter Irene Adler.  
The post highlights a general sense of confusion about consent, even, in some cases, among sexual assault survivors. A recent study by Canadian researchers determined that women often faked orgasms as a way to get out of having "bad," or even nonconsensual, sex; further, instead of explicitly describing the sex as nonconsensual, they often used more ambiguous phrases such as "he kind of forced me" or "[the sex] was consensual but I didn't want to do it," lead study author Emily Thomas told Mic. 
According to the Clothesline Project, an advocacy group working to reduce violence against women, one in five female high school students report having been physically and/or sexually abused by a dating partner. This anonymous woman's heartbreaking Humans of New York post offers a poignant reminder of how important it is to talk with young people about consent. 
"This terrifies me, as a parent," wrote one Facebook commenter. "I intend to raise my children (of both sexes) to know that consent is not implied or coerced. ... I want them to understand their own rights AS WELL as the rights of others."
Read more: