Hostel vs. Hotel vs. Airbnb — Which One Is Right For You?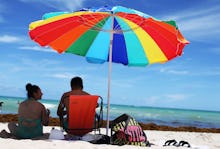 Figuratively speaking, life isn't about the destination — it's about the journey. But when it comes to those precious paid vacation days, a trip almost entirely depends on finding that perfect getaway far from the humdrum of your everyday routine. And where you stay when you get there matters.
The international traveler might consider a hostel, a typically cheaper alternative than a hotel or Airbnb, and generally thought to provide a more authentic experience to tourists looking to fully immerse themselves in the culture of a foreign city. A hostel can be all of these things, or it can be all of the grit with none of the glam. 
Hostels are shared living spaces, which can often accommodate dozens of people via bunkbeds and a single communal bathroom. If you're uncomfortable being in such close quarters with strangers (something to consider especially if you're a solo traveler) the hostel experience may be worth skipping. 
Still, lodging with strangers is what can make staying in a hostile worthwhile. You'll meet fellow young travelers from around the world who could become fast friends or at least give you some tips on must-see tourist spots. What's more, if you're planning on spending most of your days out and about and are just looking for a place to crash, a hostel could be just the thing. Hostelz.com, which culls hostel ratings and reviews from across the internet, is a great resource for first-time hostelers.
And now, the great debate: hotel or Airbnb?
Before considering an Airbnb — an increasingly appealing and convenient choice as the vacation rental company expands worldwide — there are a few things a traveler should be wary of. The company, which considers itself more of a platform, has been embroiled in complicated politics with cities like New York and San Francisco, as certain users abuse the service to rent out rooms and entire apartments for a length of time which makes them "illegal hotels." The company has also promised to root out discrimination, as in the recent Airbnb host who rejected a renter because she was trans.
But while these headlines can easily leave a bad taste in your mouth, there are plenty of honest and welcoming hosts who bravely open their often luxurious homes to complete strangers. They are the true gems of Airbnb and allow you to feel like a native in a house (flat, houseboat, what-have-you) and city that might otherwise stray far beyond your price range. And it's never too hard to find something affordable right in a city's center — be it within walking distance from Paris' Eiffel Tower, Amsterdam's canals or Madrid's Royal Palace.
Booking your average hotel, though, is almost always a safe bet — and that's OK. Sometimes you just want the simple comforts of room service, the minibar and the heated pool. These conveniences, of course, usually come at a higher price point, but after a long day in a foreign city, a hotel pillow mint may be just what you need.
Read more: