'The Bachelorette' Week 8 Recap: Fantasy Suites in Thailand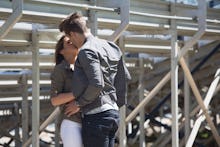 Welcome to Thailand, Bachelorette fans! This week, JoJo reached an important milestone with each of her three remaining gents: spending a night alone in the Fantasy Suite having lots of steamy, uh, "conversations."
Editor and Bachelorette fan Jordyn Taylor here, filling in for regular recapper Anna Swartz, who is on vacation this week. Last week left the show on a cliffhanger: Would Luke's last-ditch profession of love be enough to spare him elimination after hometown dates?
The answer: No. Luke, the war veteran who has never made a real facial expression, goes home. And at the end of the episode, JoJo sends home another guy, too: Chase, who only just figured out how "feelings" work. The final two remaining are Jordan and Robby.
Speaking of Robby, who swam competitively at some point in life: He and JoJo meet up in a Thai marketplace, where — awkwardly — they share an intimate conversation over foot massages. 
JoJo tells Robby she was shocked when he told her he loved her — but ultimately, it allowed her to open up to him. More importantly, Robby shows the country how to have a makeout sesh while simultaneously making sure you're still getting the Thai foot massage you paid for. 
Later that night, an invitation to the Fantasy Suite is up for grabs. To set the mood for love-makin', Robby shows JoJo a handwritten letter from his father. Sexy!
As is customary on The Bachelorette, Robby says he's excited to spend the night getting "to know the Joelle I want to spend the rest of my life with" — and not, in fact, boning for the first time. It's creepy that he calls her "Joelle" — and not JoJo — but the Bachelorette seems to enjoy hooking up on a very tiny bed.
Fresh off her date with Robby, JoJo meets up with her next beau: Jordan. The pair go hiking up a steep rocky hill, which seems unnecessarily cruel to the camera crew. 
JoJo and Jordan climb through a cave to a temple nestled in the woods. "Temples are very sacred here," JoJo says sagely. That's a problem, because she and Jordan have "intense chemistry." Save it for the Fantasy Suite, kids!
Will Jordan get an invite to the Fantasy Suite? At first, it's unclear: The former professional football player doesn't seem to have any current life plans. But eventually, Jordan's sexy smile and swoosh-y hair win JoJo over; they head to their shared hotel room. 
They seem to have a great night — but the most exciting part? When JoJo and Jordan actually consume food the next morning — a rare occurrence on The Bachelorette. 
After sleepovers with Robby and Jordan, JoJo is worried. "It's scary to think I'm in love with two people right now," she says, recalling the time Ben Higgins broke her heart on national TV. Even though she's falling in love with Robby and Jordan, she's going to hold off on sharing her feelings — she doesn't want to make the same mistake as Ben and say too much too soon. 
Finally it's time for Chase, whose gradual discovery of "feelings" is far and away the most compelling subplot this season. 
Chase tries extremely hard to sound profound, describing Thailand as a "magical place with monkeys and fishermen, salt water and fish." If JoJo's selecting a husband based on how well the men recite nouns, Chase's chances are looking good.
And now, for a shocking twist: As JoJo prepares for dinner with Chase, Robby crashes her hotel room for a little more face sucking. Is it rude — or genius? The latter, it seems: JoJo says Robby's visit confirms why she cares so much about him. 
But back to Chase. At dinner with JoJo, Chase talks about "getting to those real emotions that are there." The poor guy is trying to so hard — but sadly, it's not enough. When Chase tells JoJo he loves her, she realizes she isn't feeling quite the same way about him. 
After fleeing outside to cry for a bit, JoJo tells Chase she's just not that into him — and Chase is "shattered." This is just like that time his parents got divorced!
Chase goes home without a rose — but with a newfound grasp on how "emotions" work.
There's still time for a Rose Ceremony, because Chris Harrison needs to appear on camera at least once this episode, right? As Jordan and Robby take stock of Chase's absence, there's another shocking twist: Chase and his six new feelings arrive on the scene. Is he vying to re-join the competition?
In a private conversation with JoJo, Chase says he doesn't want back in the running — he just wants to tell JoJo he's proud of her. 
He exits, pursued by a monkey.
JoJo gives roses to Jordan and Robby, her final two men. One is a former football player, the other a former competitive swimmer. I hope JoJo's pumped for a lifetime of caressing rusty sports trophies!
Read more: