Nick Johnson Caught All the Pokémon. Here's the Biggest Mistake 'Pokémon Go' Players Make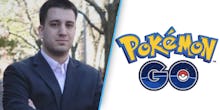 The goal in Pokémon Go is to "catch 'em all," and so far at least one man has succeeded. That man is New Yorker Nick Johnson, the head of platform for platform innovation company Applico, and he's considered to be the first person to catch all 142 of the Pokémon in the United States.
Mic interviewed Johnson over email about hatching eggs, the Pokémon Go community, losing weight and which common Pokémon you should never avoid. The interview has been edited for length and clarity.
Mic: When did you start playing Pokémon Go?
Nick Johnson: I started playing when the game came out on July 6. I had applied to get into the beta, but never got in. So I was ready to go as soon as it was available in the United States.
When did you realize you were good at it?
NJ: I always approach games like Pokémon Go very analytically. Pokémon Go is a social gaming platform, so, other than my childhood love of Pokémon, I was naturally very interested in understanding the mechanics of how the game worked. Things like how Pokémon spawned, how it connected players together and how it brought people together in the real world, so that I could apply those lessons in the work we do with clients. This kind of approach helped me in being very efficient in how I approached the game, given that there are definitely people out there who have more time to play than I do.
It hadn't even occurred to me that I might be the first to catch 'em all until I got to about 135 Pokémon in my Pokédex. After that, I decided to go for it.
What's the Pokémon you have the most of?
NJ: Pidgey. They're everywhere in Manhattan and Brooklyn. According to the game I've currently caught 626 and seen 761 of them. I've probably seen more Zubats than that, but I started ignoring those very early on because they're super annoying! Pidgeys are also great for leveling up, as you can evolve them with only 12 Pidgey candy (you get three candy for each Pidgey you catch and one more for "transferring" the Pokémon after you catch it). So I try to catch every Pidgey I see, even now.
Do you have any advice for Pokémon Go players?
NJ: Talk to your fellow trainers! The community is one of the best parts of this game, and I never would have caught them all if it weren't for the advice and tips I received from other players. They are your best resource. And who knows, you might even make a few new friends along the way. I know I did!
What's the most common mistake players are making?
NJ: When trying to hatch eggs, walk in a straight line. A lot of people walk in circles thinking their eggs will hatch quickly. But the game uses a distance displacement calculation to measure distance traveled. That means it doesn't count your steps like a Fitbit or the Health app does. Instead, it periodically takes your location, and then draws a straight line to your previously measured location and calculates that straight-line distance. So if you're walking in a circle or in a zigzag, you'll be hatching your eggs much slower than you could be. I learned this one the hard way.
What are your favorite and least favorite aspects of the game?
NJ: My favorite part of the game is the social aspect. The community around the game is incredible. I've met hundreds of people I never would have had the chance to meet otherwise and made new friends in the process. The way Pokémon Go is bringing people together is really unprecedented.
My least favorite aspect has been the server issues. But working at a company that does software development, I can totally feel for Niantic and think they've done a good job recovering quickly! I'm sure the server stability will only continue to improve.
How many hours do you think you have spent playing the game overall?
NJ: I probably played about eight hours a day during the week for most of the two weeks, and a bit more than that on weekends. There were even a couple nights I stayed in because my girlfriend wanted to have a nice dinner at home. The last few days, though, after I decided to go for catching 'em all, I had a couple very late nights.
Are you going to keep playing it?
NJ: Absolutely! It's still a lot of fun to play with friends and to meet new people. And the game is also a great excuse to exercise. I walked an average of about eight miles a day during my two-week journey to becoming a Pokémon master and lost about eight to 10 pounds in the process. I'm also looking forward to many of the features that Niantic has teased, like events around the legendary Pokémon that aren't available yet and more team-oriented features.
Read more: