Demi Lovato Bursts Into Song at 2016 DNC, Asks "What's Wrong With Being Confident?"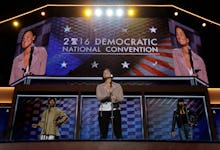 Pop star Demi Lovato gave a brief speech onstage Monday night at the Democratic National Convention in Philadelphia, commenting on the difficulties faced by Americans with mental illness before launching into a rendition of her hit song "Confident."
"Like millions of Americans, I'm living with mental illness," the singer, who has long been open about her experience with bipolar disorder and substance abuse, told the crowd. "But I'm lucky, I have the resources and support to get treatment at a top facility."
"Unfortunately, too many Americans from all walks of life don't get help, either because they fear the stigma or cannot afford treatment," Lovato said. "Untreated mental illness can lead to devastating consequences, including suicide, substance abuse and long-term medical issues. We can do better."
"I stand here today as proof that you can live a normal and empowered life with mental illness," Lovato said. "I'm proud to support a presidential candidate will fight to ensure all people living with mental health conditions get the care they need to lead civilian lives. That candidate is Hillary Clinton."
Then came the singing.
Clinton has called for mental illness to be treated similarly to physical ailments on the campaign trail, and has made expanding access to psychiatric and counseling services a major theme of her campaign.
But Lovato's speech is likely to be overshadowed by her sudden segue into "Confident."
But let's be serious — Demi DGAF.
Read more: