Pat Spearman, Queer Black Politician, Had Harsh Words for Trump and Pence at 2016 DNC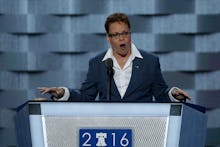 Out gay Nevada state senator, pastor and Army veteran Pat Spearman on Monday night addressed the Democratic National Convention in Philadelphia. She enumerated the many ways an administration led by Donald Trump and Mike Pence would hurt the LGBTQ communities. 
"We have heard Donald Trump say that he would protect the LGBTQ community," she said. "But he is against marriage equality and has said he is all for overturning it." 
The crowd booed her mentions of Trump, who has previously said he would appoint Supreme Court justices to overturn marriage equality. 
Spearman also slammed Trump for his stance on bills that deny access to bathrooms matching a person's gender identity. Trump has supported those bills while also telling transgender woman Caitlyn Jenner she could use whatever bathroom she wished in Trump Tower. 
"But his worst attack," Spearman continued, "was his vice presidential pick." As Spearman brought up Pence, the crowd reacted with vehement boos. By passing a religious freedom bill, Spearman said, Pence "used religion as a weapon to discriminate." 
Pence's record on LGBT rights backs up Spearman's claims; the Indiana governor has advocated for conversion therapy and said marriage equality would precipitate societal downfall. 
"As a person of faith, that offends me," Spearman said. "As a legislator working hard to create jobs, that baffles me." 
Spearman closed her address by leading the crowd in an altered version of the spiritual "Walk Together, Children," where she replaced the word "children" with "Democrats." 
Read more: