Bernie Sanders Urges Party Unity on Night When His Supporters Booed and Jeered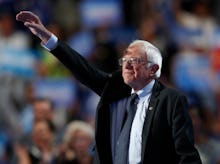 PHILADELPHIA — Sen. Bernie Sanders sought to make the case for party unity Monday night at the Democratic National Convention, addressing an arena that for most of the night had been hijacked and interrupted by his supporters who were angry he lost the Democratic presidential nomination to Hillary Clinton.
Sanders — who earlier in the day pled with his backers to stop their booing and protesting on the convention floor — did not acknowledge his supporters' behavior Monday evening.
Instead, he acknowledged the disappointment his supporters feel, yet said the time has come for the party to unite behind Clinton — a cry that earned him scattered boos from his most loyal backers unwilling to accept that Clinton will be the Democratic nominee.
"Any objective observer will conclude that – based on her ideas and her leadership – Hillary Clinton must become the next president of the United States," Sanders said. "The choice is not even close."
Before Sanders spoke, many of his angry delegates interrupted speeches throughout the night, booing and chanting — even at first lady Michelle Obama and progressive icons like Sen. Elizabeth Warren.
Sanders was subject to the booing earlier in the day at a gathering of his delegates in a ballroom at the convention center in downtown Philadelphia.
But in his Monday night address, Sanders was unequivocal in his support of Clinton, saying the "choice is not even close" between Clinton and Republican nominee Donald Trump.
"I have known Hillary Clinton for 25 years. I remember her as a great first lady who broke precedent in terms of the role that a first lady was supposed to play as she helped lead the fight for universal health care. I served with her in the United States Senate and know her as a fierce advocate for the rights of children," Sanders said. "Hillary Clinton will make an outstanding president and I am proud to stand with her here tonight."
Read more: