At 2016 DNC, Sarah Silverman Has a Message for Bernie or Bust: "You're Being Ridiculous"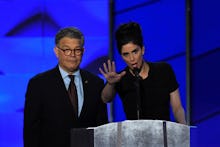 Speaking Monday night at the Democratic National Convention in Philadelphia, comedian and actress Sarah Silverman had a message for supporters of Vermont Sen. Bernie Sanders' presidential bid who refuse to support presumptive nominee Hillary Clinton: Stop being ridiculous.
"I tell you this, I will vote for Hillary with gusto," Silverman told the crowd, flanked by Minnesota Sen. Al Franken. "As I continued to be inspired and moved to action by the ideals set forth by Bernie who will never stop fighting for us — will never stop fighting for us.
"I'm proud to be a part of Bernie's movement and a vital part of that movement is making absolutely sure that Hillary Clinton is our next president of the United States."
But as the chants of "Bernie" increased in volume, Silverman, a reformed Berner who appeared in a Sanders campaign video in March, appeared to reach a breaking point. "Can I just say, to the 'Bernie or Bust' people," she pleaded with the crowd, "you're being ridiculous."
The crowd roared.
On July 12, faced with a dead end to his own campaign, Sanders endorsed Clinton as "far and away the best candidate" to deliver on Democratic principles. Before the convention, Sanders asked his supporters to refrain from protesting at the DNC as a "personal courtesy."
Nonetheless, some former Sanders fans did turn on him after his endorsement of Clinton, calling him a sellout.
Read more: