Heartbreak in Philly: Bernie Sanders Fans Wonder Why He Isn't Fighting on at 2016 DNC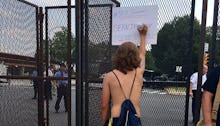 PHILADELPHIA — As Bernie Sanders took the stage at the Wells Fargo Center here, Sky Myers buried her face in her hands.
"Please don't roll over," she begged her candidate for president as she watched him on a bar TV.
Moments later, Sanders launched into a Democratic National Convention address that encouraged his fans to help Hillary Clinton stop Republican Donald Trump in November.
This was not what many of them wanted to hear.
Sanders supporters, some of whom traveled thousands of miles to Philadelphia to demonstrate their allegiance to the populist Vermonter, gathered at Chickie & Pete's sports bar to watch their candidate address the country.
These weren't the delegates and A-listers who wore special passes or got shuttled to the convention via private buses or police-escorted motorcades.
People like Myers, a senior services worker who hails from Olympia, Washington — 2,800 miles from Philly — were the ground troops who threw themselves into the Sanders mission.
They wore his T-shirts and plastered themselves with his stickers, often sending him more money than they could really afford.
And they didn't watch Monday night's proceedings from some cushy convention skybox: They caught it on bar TVs and in hotel rooms. They literally stood at the arena gates and shouted for Sanders over the barricades, taking their rest in tents they pitched in the parks.
In short: "They came here to say 'no' to Hillary Clinton ... and so did I," Myers said.
"I wish he would have walked out and said, 'Come with me to the people.' Bernie knows we're out here," she insisted. "He sees it."
Jordan Higgins, 22, a chef and accounting student from Asheville, North Carolina, cheered along with the other Berners transfixed on the screens at Chickie & Pete's.
"We're with you! They cannot refuse you!" he shouted as the senator began after an ovation from the arena crowd.
Minutes later, Higgins and his compatriots were chanting "JILL, NOT HILL," a reference to Green Party presidential hopeful Jill Stein.
Throughout the bar, anxious Sanders fans stared at the screens, some with tears in their eyes and others booing as their candidate made his Clinton sales pitch.
Smiles faded. Waitstaff who'd paused to take in the speech returned to their rounds. Eyes wandered from the giant wall screens to glowing smartphones.
There were a couple more moments of elation.
There were plenty of rationalizations.
There were few supporters planning to vote Clinton in November.
"He is saying things right now to try to keep people calm," Higgins said after Sanders wrapped up. "He's woke up people. He's got the movement started ... but we control who's the next president — not Hillary, not Bernie and not Donald."
It did sting, he said, to have come the furthest north he'd ever been in his life only to hear Sanders try to sell him a Clinton presidency: "I feel like he's partly turning his back on us. He's going against what he said this entire campaign; he's going against what he's been preaching to us for six months. But it's up to us."
And Higgins said he might end up voting for Jill Stein.
Like others who flocked here to show their support for Sanders in person, "I'm just a hopeless optimist and I'm not ready to give up," said Jakob Salinas, 25, of Corpus Christi, Texas, who sat with Higgins during the broadcast.
As to Sanders saying Clinton would make a solid leader, Salinas said, "Either they threatened him and that's why he's doing this, or he's just playing the game."
Earlier, before a pitiless storm drove them out of a park near the Wells Fargo Center Monday, Sanders fans John Kasbohm and Dave Lillis had tried to make sense of it all.
It wasn't easy.
And they, too, suggested Sanders had either been forced against a wall by Clintonites and the Democratic Party, or might make a surprise move before the Thursday close of the convention.
Sitting at a picnic table listening to activists' speeches, Kasbohm and Lillis weren't ready to call Sanders a turncoat in the "revolution" he ignited this election cycle.
But both said they'd ignore his advice and vote for Stein, not Clinton, come November.
"I don't think he's a traitor — I think he's a chess player who's trying to do the best he can," said Lillis, 38, a marine biologist from Washington State who described Sanders as a "master strategist" of politics.
Kasbohm, 63, an art gallery proprietor, also tried to rationalize: "[Sanders] had to make commitments for them to allow him to run as a Democrat. ... He had to support whatever the ticket was going to be. I excuse that; I'm not happy with it. I hope he's not following [Clinton] around on the campaign trail."
Lillis deadpanned, "I hope Hillary lets Bernie's grandkids out of whatever cage she's got them in."
If not openly enraged, Sanders fans said in interviews that they were struggling with pangs of disappointment and confusion: They were convinced he'd been railroaded by a pro-Clinton DNC or cheated by unscrupulous elections officials — and they wanted to see him go to the mat.
"I'm a firm believer that he won the nomination, [but] I don't see him fighting for himself. I'm starting to get discouraged," admitted Jason Bover, 34, of Woodstock, New York, who only registered to vote to support Sanders in the Democratic primary.
Looking around at the #BernieOrBust marchers who'd sweated it out on a day that sent the thermometer soaring to 97 degrees, Bover went on:
There's so many people here fighting for him, right? ... We've had so many people from all over the country spending their hard-earned money [to come here], and then Bernie's like, "Ah, vote for Hillary..." How come Bernie's not like, "F the DNC?"
Torrential rains and lightning led to an evacuation of the park. The bedraggled Sanders soldiers headed out in soaked sneakers, huddling under trees with their disintegrating handmade signs.
Some headed for the train or summoned cabs and Uber rides. Others decamped to nearby hangouts like Chickie and Pete's, where they said they hoped against hope that a convention roll call might derail Clinton's drive to the nomination.
And some seemed resigned to the course their "revolution" had taken.
Glenn Campbell, 51, of Los Angeles, said he'd grudgingly have to get with the Clinton program.
"Bernie Sanders is the best option since John F. Kennedy," he said.
But "a vote for anything other than Hillary, or not voting, is a vote for Trump."
Sabrina Sayeed contributed reporting.
Read more: