Elizabeth Warren Praises Hillary Clinton, Denounces Trump in Rousing DNC Speech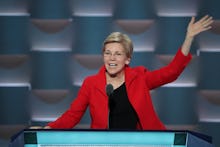 PHILADELPHIA — Sen. Elizabeth Warren sought Monday to paint a positive image of the country during a prime-time address at the Democratic National Convention, saying it's imperative Hillary Clinton defeats Republican nominee Donald Trump.
Warren called the decision to support Clinton "deeply personal," declaring that she's "with her" and painting a picture of the decision Americans have before them.
"On one side, a man who inherited a fortune from his father. ... A man who has never sacrificed anything for anyone. A man who cares only for himself, every minute of every day," Warren said. "On the other side, it's one of the smartest, toughest, most tenacious people on this planet. A woman who's for children, women, health care, human rights. A woman who fights for all of us it is strong enough to win this fight."
As she touted Clinton, angry supporters of Sen. Bernie Sanders booed and chanted "we trusted you!" in a show of disappointment over Warren's decision to back Clinton.
But Warren did not acknowledge their taunts, going on to bash Donald Trump — a task she's relished over the past few months.
Warren hit Trump for being nowhere to be found on issues important to working families, such as lowering college debt and increasing access to health care.
"Where was Donald Trump in all of these fights?" Warren said. "Not once did he lived a finger to help working people. And why would he? His whole life has been about taking advantage of that rigged system. Time after time, he preyed on working people, people in debt."
She added that his treatment of women, minorities and his involvement in Trump University — a real estate program accused of defrauding its enrollees — does not deserve to be president.
"What kind of a man acts like that?" Warren said. "What kind of a man roots for an economic crash that cost millions of people their jobs, their homes, their life savings? What kind of a man cheats students and investors and workers? I will tell you what kind of a man: a man who must never be president of the United States."
Read more: