Priest Killed After Hostages Taken in Normandy Church, France Investigating Terror Link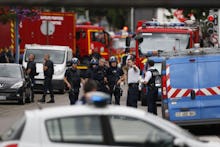 A priest was among those killed when two men armed with knives took hostages at a church in Saint-Étienne-du-Rouvray, in northern France, according to multiple reports.
Speaking to reporters on Tuesday, French President Francois Hollande said the attack was conducted "by two terrorists in the name of Daesh," which is another name for the Islamic State group, also known as ISIS, CNN reported.
The priest's throat appeared to have been slit, police sources told the Guardian. The priest, Jacques Hamel, was 84 years old, according to the BBC.
"This man was a good man, he always had a kind word for everyone. He served at this church for 30 years. Everyone is shocked," Normandy regional president Hervé Morin told the Guardian. 
Interior Ministry spokesman Pierre-Henry Brandet said another hostage was in critical condition, Reuters reported.
The two attackers, who took the priest, two nuns and two parishioners hostage during mass, were shot and killed by French authorities, according to the BBC.
French anti-terrorism officials are investigating the attack, which could indicate that the attack is politically motivated, according the Washington Post. Brandet said police are also searching the church for explosives, according to the BBC.
President Francois Hollande and Interior Minister Bernard Cazeneuve are now in Saint-Étienne-du-Rouvray, according to a tweet by Cazeneuve. 
On Twitter, Hollande extended solidarity and compassion to the victims' families and to all Catholics of France.
French Prime Minister Manuel Valls called the attack "barbaric."
This is the latest in a string of deadly attacks in France. On July 13, 84 people were killed when Mohamed Lahouaiej Bouhlel drove a truck into a crowd during Bastille Day celebrations in Nice, France. ISIS claimed responsibility for the attack. 
Read more: