Thanks to Torrid, This 'OITNB' Star Is Now a Part of an Amazing Plus-Size Denim Campaign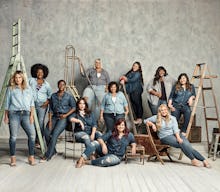 Actress Adrienne C. Moore is most widely known to Orange Is the New Black fans as "Black Cindy," one of the most carefree, and definitely most Jewish, incarcerated women at Litchfield prison. 
But now, thanks to plus-size clothing retailer Torrid, Moore can join her fellow co-star Danielle Brooks in adding model to her resume.
In a new campaign celebrating Torrid's size-inclusive collection of denim, Moore poses alongside professional models Philomena Kwao and Georgina Burke, who both identify themselves as plus-size models, as well as fashion bloggers Simone Mariposa, Allison Teng and Loey Lane. According to the retailer, the campaign displays the collection on 11 people with different body types and sizes. 
"The blue jean industry insists on fitting jeans on fit models whose shapes don't represent what American women really look like," Liz Munoz, senior vice president of design for Torrid, said in a press release. "Everything we do at Torrid is done with our customer in mind; it's always about her. We fit on a fit models and cross check on multiple girls of varying sizes, and then tweak the cut until we know they really fit everyone. Lucky for me, for the first time in my career I get to actually wear the amazing jeans I design." 
Of the new modeling gig, Moore was particularly happy about being a part of a campaign with an empowering edge. 
"I loved it! Meeting all these ladies following their dreams and passions, it was really empowering to hear all their different stories," Moore said in a press release. "From a fashion standpoint, it looked amazing. It was so interesting to see the array of denim and styles, accentuating everyone's beautiful curves. We had a blast." 
In addition to the campaign images themselves, which will be featured in Torrid stores nationwide and on its website, the retailer will also be featuring videos with each of the women, letting them tell their own story about why finally finding jeans that fit matters. So although Philomena Kwao has posed for Torrid before, she noted to the Huffington Post that the campaign is extra special because the women get to have a voice. 
"It was like we were all old friends, united in the belief that every woman, regardless of size, age, race or sexuality should have access to affordable clothing that makes them feel beautiful and allows them to express themselves," Kwao said. 
Torrid is one of the few plus size retailers out there that's making a concerted effort to change what "plus-size clothing" really means. Recently, it teamed up with actress Rebel Wilson in order to offer actually edgy clothes for women up to a size 28. In bringing in women of various professions, and various sizes, to tell their story, Torrid joins retailers like Selfridges and JC Penney, who have launched campaigns in celebration of real body positivity. 
Read more: 
•