Samantha Bee Can't Contain Her Excitement at Roger Ailes' Ousting From Fox News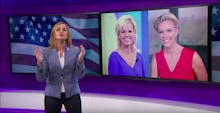 Previously, Stephen Colbert and Jon Stewart could barely hold in their excitement at Roger Ailes' ousting from Fox News. Now it's Samantha Bee's turn on Full Frontal to relish in Ailes' resignation after accusations of sexual harassment from Gretchen Carlson and Megyn Kelly pushed him out the door. 
"Congratulations, Roger, you've finally achieved your ultimate fantasy: getting fucked by two gorgeous employees at the same time," Bee said on Monday night's show. 
She explained her grievances with Fox News, from the channel's oddly sexual "leg cam" angles of its female hosts to the misinformation and fearmongering that the network regularly broadcasts.
Bee continued:
Roger Ailes made Fox News an unstoppable powerhouse by discovering the secret to big ratings. What viewers really want is to be furiously angry, while also having a boner. The anger part of the arousal was achieved through Roger's uncanny ability to take a thing that may or may not exist, put an ominous spin on it and then force-feed it to us all day like a Foie Gras goose until we were terrified. Fox News was his masterpiece, a right-wing nightmare factory powered by white resentment and relentless misinformation, churning out propaganda 24/7 and making family thanksgivings unbearable for 20 years.
So Bee was in a celebratory mood knowing Ailes is no longer in charge of the network. But that mood didn't last long — not after Republican presidential nominee Donald Trump called him a "friend of mine for a long time."
"Holy Christ, we're fucked," she concluded.  
Watch Bee's full takedown of Ailes and Fox News below.
Read more: