Kelly Clarkson Dragged a Twitter Troll Dissing First Lady Michelle Obama's DNC Speech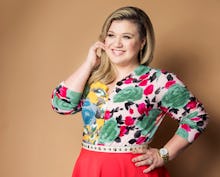 Little did you know Kelly Clarkson was the low-key queen of Twitter clapbacks. Monday night, she proved it yet again after a user knocked first lady Michelle Obama's speech at the Democratic National Convention, taking issue with her mentioning the uncomfortable fact that the White House was built by slaves. 
The user wasn't sure they "liked that part," but the country star made them face the reality of history: "Pretty certain the slaves that built it didn't like it either." She quite literally shut them down — all the way down, to the point the user deleted their account.
Clarkson's epic clap back gave life to the fan base she's building since taking home the first American Idol crown in 2002. The tweet quickly went viral, receiving well over five times the amount of retweets as Clarkson's original post praising Obama's speech, which the user commented on: "Damn! Just saw @MichelleObama speech at DNC tonight! That was amazing!! Love her #ImWithHer #Clinton." 
The line the now absent user took issue stems First Lady's revealing testimony about what it felt like for her to wake up each day in the White House, knowing the building's past.
By the time of publication, the twitter user @CoffeBeansRock, who initially penned the critique of the First Lady's thoughts, had their account deactivated. But that didn't stop countless Twitter users from tagging the handle in posts about slavery, institutional racism and their support of Obama.
Just call both Clarkson and Obama the First Ladies of clapping back. 
Read more: