This 11-Year-Old's Speech at the DNC Reveals Why People Fear a Trump Presidency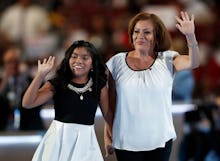 In February, Hillary Clinton listened as 11-year-old Karla Ortiz told the Democratic presidential candidate about her deepest fears. Breaking into tears, Ortiz, who was born in the United States, said of her undocumented parents: "I'm scared they're going to be deported." At the time, Clinton told Ortiz she was "brave."
On Monday night, Ortiz and her mother, Francisca, took their story to the Democratic National Convention stage.  
"I don't feel brave every day," Ortiz said to the DNC audience. "Most days I'm scared. I'm scared at any moment my mom and my dad will be forced to leave. And I wonder what if I come home and find it empty?"
Ortiz said, like many immigrants, her parents came to the U.S. looking for a better life and in search of the American dream. Though she may fear for her parents, Ortiz hasn't lost hope. The 11-year-old told the DNC audience she wants to grow up to be a lawyer to help other families like her own. 
In the meantime, she said she trusts Clinton to fight for her.
"She told me I didn't have to do the worrying because she would do the worrying for me and all of us," Ortiz said. "She wants me to have the worries of an 11-year-old, not the weight of the world on my shoulders."
Ortiz's speech was in keeping with the convention's opening-day theme, "United Together": a stark difference from Donald Trump's "Make America Safe Again." 
Instead of hearing from undocumented immigrants and their families, the Republican National Convention's day one speakers included a number of people whose family members had been victims of crimes committed by undocumented immigrants, painting them — as Trump has in the past — as bringing drugs, crime and rape into the country.
Trump has also proposed to deport 11 million undocumented immigrants and make Mexico "build a wall" on the U.S. border. 
But in their joint DNC speech, Ortiz and her mother focused on Clinton's platform of inclusion. 
"Like all parents, we work hard to give our children a better life, living every day with the hope that our efforts will be realized," Ortiz's mother, Francisca, said in Spanish. "The immigration system needs to be improved so that families can remain together and can achieve the American dream."
Read more: