Father John Misty Releases "Real Love Baby" Following His Weekend Meditation on "Evil"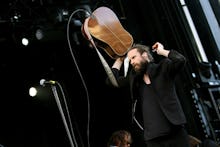 Father John Misty has very mixed feelings on the value of entertainment, to say the least. But that hasn't stopped him (or the industry apparatus behind him) from releasing new music. 
An official version of his song "Real Love Baby," previously released for free on SoundCloud, popped up Monday night on all his monetized streaming channels, including Spotify, Tidal and Apple Music. 
The drop, which features Thomas Brenneck of the Budos Band on guitar, came as a complete surprise to his fans, according to Pitchfork — even more so after Father John refused to finish his own set during an appearance at WXPN's XPoNential Music Festival over the weekend, choosing instead to lecture his audience on "evil" and the vacuity of entertainment.
Instead of running through the sardonic folk numbers that made his name, he launched into a depressed rant about the state of the world, declaring, "Stupidity just fucking runs the world, because entertainment is stupid."
"Maybe just take a moment to be really fucking profoundly sad," he told the crowd in a nod to the Republican National Convention, which nominated Trump the day before. Watch the video below. This is the head space that heralded the "Real Love Baby" release.
Either he's started to feel how badly people need music in dark times, or his career is just coasting along on automation. Entertainers still have to entertain, even if they feel like death inside. Father John Misty has always played the sad clown better than most. No matter which way you slice it, "Real Love Baby" a beautiful song and it delivers a fundamental, necessary truth: Even in dark times, there still is real love in the world.
Read more: