'Harry Potter and the Cursed Child' Play: Here's What the Critics Are Saying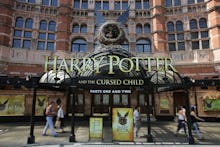 London-based Harry Potter fans won't have to wait much longer. After months of anticipation, the West End play Harry Potter and the Cursed Child will open July 30, while the accompanying book that has already broken pre-order records (previously set by, you guessed it, Harry Potter and the Deathly Hallows) will hit shelves the next day.
Reviews for the play have started pouring in, and the consensus among critics is that the Cursed Child is a fantastic, fittingly magical production that lives up to the hype. Here is a sampling of the early reviews:
"It is, quite simply, spellbinding: The Show That Lived Up to Expectations — and Then Some," Matt Trueman wrote in a review for Variety. "Three years after J.K. Rowling announced her boy wizard would hit the stage, Harry Potter and the Cursed Child — no mere rehash, but a whole new chapter — proves a proper theatrical blockbuster ... Twenty years ago, Harry Potter turned a generation onto reading. The Cursed Child could do the same for theater." 
"This eagerly anticipated, two-part, five-hour-plus sequel to J. K. Rowling's best-selling, seven-volume series of Harry Potter novels is the kind of play that you want to describe in detail, if only to help you figure out how it achieves what is does," Ben Brantley wrote for the New York Times. "That would be a kind of magic that is purely theatrical yet somehow channels the addictive narrative grip of Ms. Rowling's prose." 
"British theatre hasn't known anything like it for decades and I haven't seen anything directly comparable in all my reviewing days," Dominic Cavendish wrote for the Telegraph. "It's a triumph. Not an unqualified one — there are some quibbles — but in all key respects, it grips, it stirs, it delights." 
"Well, Harry Potter fans, you will be glad to know that J.K. Rowling, Jack Thorne and John Tiffany have created a theatre production of immense wonder, one that is highly referential to Harry Potter stories past and is, above all, truly magical," Jack Shepherd wrote for the Independent. "As with Rowling's other work, this tale — which really is tailor-made for the theatre — focuses on familiar themes of friendship and family, developing both new and old characters in a meaningful and believable way." 
"For once, the so-called theatrical event of the year really is just that," Henry Hitchings wrote for the Evening Standard. "The long-awaited Harry Potter play, written by Jack Thorne in collaboration with J.K. Rowling and presented in two installments that together weigh in at more than five hours, is a feast for fans, packed with pathos, dazzling choreography and moments of pure enchantment." 
Fans of the Wizarding World: No one will judge you if you've already booked tickets to London. 
Read more: