In One Tweet, President Obama Reminds Us How the Obamas Redefined #RelationshipGoals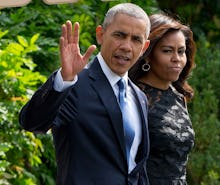 On Monday night, Michelle Obama delivered an unforgettable speech at the Democratic National Convention in Philadelphia, in which she talked at length about being the first black First Lady in "a house that was built by slaves."
The President later tweeted a response to his wife's DNC speech, prompting an eruption of feels from people on Twitter who gush over the couple:
Throughout President Obama's political career, the FLOTUS's humor, strength and poise have redefined the role of a politician's wife — and together, the Obamas have made an unstoppable team. Here are a few more moments when they raised the bar for #RelationshipGoals. 
1. That time they were featured in a couples' photography project in 1996, long before President Obama entered politics.
In the feature, which was later published by The New Yorker, Obama said of his wife: "Michelle is a tremendously strong person, and has a very strong sense of herself and who she is and where she comes from ... even as you build a life of trust and comfort and mutual support, you retain some sense of surprise or wonder about the other person." 
The Obamas aren't afraid to have fun together, even when they're tackling intimidating challenges. 
3.  Their dance together at the Western Inaugural Ball in 2009.
After more than two decades of marriage, the President couldn't help but look at his wife with tenderness while taking her for a spin on the dance floor. 
4. That time a photographer caught them goofing off and snuggling in the White House before a meeting with the National Newspaper Publishers Association.
5. That time the FLOTUS fixed her husband's cummerbund before his meeting with the Chinese president.
In their time at the White House, the Obamas' marriage showed us all what it's like when two independent leaders join forces, start a family and keep it real. Come November, we're definitely going to miss them. 
Read more: