Was the White House Built By Slaves? Some Are Really Doubting Michelle Obama's DNC Speech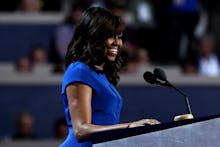 Yes, FLOTUS haters, the White House was built by slaves.
Last night, first lady Michelle Obama delivered a banger of a speech at the Democratic National Convention in Philadelphia, asking voters if they wanted their children to grow up with Democratic nominee Hillary Clinton or Republican nominee Donald Trump as a role model.
When explaining the importance of having black and female role models, she said: 
That is the story of this country, the story that has brought me to this stage tonight, the story of generations of people who felt the lash of bondage, the shame of servitude, the sting of segregation, but who kept on striving and hoping and doing what needed to be done, so that today I wake up every morning in a house that was built by slaves.
Obama's speech was met by resounding cheers. But because the law of the internet dictates there's always got to be "that guy" in the conversation, people objected to what she'd said. 
In a now-deleted response to Kelly Clarkson, one Twitter user criticized "the part where she said the White House was built by slaves." 
That Twitter user wasn't the only one.
But they're wrong. In fact, the White House Historical Association has an entire page dedicated to the question of whether slaves built the White House.
And sorry, commenters, they absolutely did.
As the Association's page states, "Construction on the president's house began in 1792 in Washington, D.C., a new capital situated in a sparsely settled region far from a major population center. The decision to place the capital on land ceded by two slave states — Virginia and Maryland — ultimately influenced the acquisition of laborers to construct its public buildings.
The D.C. commissioners, charged by Congress with building the new city under the direction of the president, initially planned to import workers from Europe to meet their labor needs. However, response to recruitment was dismal and soon they turned to African-American(s) — enslaved and free — to provide the bulk of labor that built the White House, the United States Capitol, and other early government buildings.
Stonemason Collen Williamson "trained enslaved people on the spot at the government's quarry at Aquia, Virginia," the page continues: "Enslaved people quarried and cut the rough stone that was later dressed and laid by Scottish masons to erect the walls of the president's house. The slaves joined a workforce that included local white laborers and artisans from Maryland and Virginia, as well as immigrants from Ireland, Scotland, and other European nations."
So there you have it. We leave you with this:
Read more: