This Food Chain's Sexist Hillary Clinton Ad Deserves 0 Stars on Yelp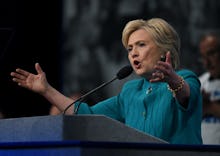 On Monday, the first day of the Democratic National Convention in Philadelphia, Bostonians woke up to a highly sexist ad printed in the Boston Globe. 
The words, "We have a term for cold fish. Sushi." are written below a photo of Hillary Clinton for a full-page ad from Legal Sea Foods, a New England seafood chain. "Berkowitz for President #FeelTheBerk" a reference to the food chain Legal Sea Foods' owner, Roger Berkowitz. 
Why is the ad sexist? The Cambridge Dictionary defines "cold fish" as "someone who seems unfriendly and who does not share their feelings. And colloquially, the expression usually refers to a woman who is frigid. Calling Clinton a "cold fish" is a direct reference to Clinton's critics calling her cold and calculating. 
Lots of Twitter users think the ad is a low blow, and took to social media to express their anger. 
Bree McGahey, a former Legal Sea Foods employee, wrote she was "disgusted." 
Boston College Law Professor Kent Greenfield wrote that he called in his complaint but the company did not answer. 
Legal Sea Foods has made a splash with provocative advertising in the past. In 2008, the chain ran train ads that read, "This conductor has a face like a halibut," Consumerist reported. Larry Berkowitz, the CEO, sarcastically apologized for the stunt. "Some look more like groupers or flounders. I've even seen a few who closely resemble catfish," he said. 
Will Berkowitz issue an apology for his latest flounder? Only time will tell.
Read more: