Meet Sarah McBride, the First Transgender Speaker to Address a Major Party Convention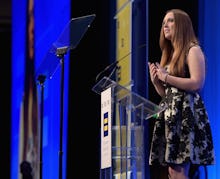 PHILADELPHIA — Hillary Clinton will make history Thursday night, when she'll become the first woman to formally accept a major party's presidential nomination. But hours before Clinton appears onstage at the Wells Fargo Arena, the Democratic National Convention will feature another barrier-breaking moment.
That same night, Sarah McBride, 25, will become the first transgender person to address a major party convention — a milestone that comes amid a raging national debate over transgender equality.
"I've been in shock:" For McBride, who got her start in politics working for Democrats in her home state of Delaware and later became the first transgender woman to serve as a White House intern, it's all a bit surreal.
"I found out a little over a week ago. I've been in shock since," said McBride, now the national press secretary for the Human Rights Campaign. "I've been inspired and empowered since. It's a really incredible statement about the DNC and Secretary Clinton that they're so committed to transgender equality."
McBride said her selection came after the Congressional LGBT Caucus chose her from a list of candidates from the LGBT community to speak onstage. She will appear Thursday night with Rep. Sean Patrick Maloney of New York, a co-chairman of the caucus.
Though she bears a placid demeanor and policy wonkery befitting a political communications professional, McBride said her role comes with no small amount of pressure.
"I certainly feel a sense of responsibility to do right by transgender people, and make sure I present in very clear ways, one, that at the center of this national dialogue about trans equality are real people," McBride said. "And the second is to clearly lay out that despite our historic progress, we have a lot of work to do, and Hillary Clinton is the person to do that."
A new culture war: While the visibility of pop culture icons like Laverne Cox, Janet Mock and Caitlyn Jenner has helped usher in a cultural sea change on transgender issues, that visibility has also triggered a backlash.
North Carolina sparked nationwide outrage this spring when Gov. Pat McCrory signed into law legislation that bars transgender people from using the restrooms that match their gender identities, while a spate of conservative-led states sued the Obama administration over its directive that public schools adopt a trans-inclusive restroom policy.
Republican presidential nominee Donald Trump hasn't toed a consistent social conservative line on the issue, criticizing the North Carolina law and saying that Jenner was free to use whichever restroom she pleased at his properties. During his acceptance speech at the Republican National Convention last week, Trump also drew attention for pledging to "protect our LGBTQ citizens" — employing a phrase not often used by GOP politicians.
Mark down McBride as unimpressed.
"We're certainly long past the point where merely saying the letters 'LGBTQ' should be seen as progress," she said. "His first major governing decision was his running mate, and he's nationally known for being anti-LGBTQ," she added, referring to Gov. Mike Pence of Indiana, who in 2015 championed a "religious freedom" law critics contended would sanction anti-LGBT discrimination.
McBride also took aim at Trump's inflammatory rhetoric targeting groups like women, Latinos and immigrants, saying that there are transgender people in each community.
"When he attacks anyone, he attacks all of us," she said.
Lauding Clinton's support for comprehensive nondiscrimination protections, McBride said the presumptive Democratic nominee would work to ensure "legal equality and lived equality" for transgender Americans.
What her moment means: But while this week's festivities are focused on uniting Democrats behind the Hillary Clinton-Tim Kaine ticket, McBride hopes her speech will convey a message that transcends politics.
"When I was coming out [four years ago], I was so worried that my professional life would be over, that my dreams and my hopes and who I am couldn't coexist," she said. But supportive network of family, friends and colleagues made her coming-out experience far easier than that experienced by many transgender people, she said.
To those whose lived experiences have been more difficult, McBride aims to send a clear signal Thursday.
"It sends a powerful signal to trans people and the public at large that we are an important part of the American story and an important part of our communities," she said. "It says that that person who's growing up in Nebraska or North Dakota or North Carolina or Texas, who's struggling with the idea of whether this country has a place for them, this country loves them and affirms them."
Read more: