H&M Releases Stills From Upcoming Kenzo Collab Featuring Trans Artist Juliana Huxtable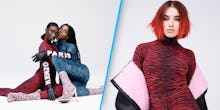 Swedish retailer H&M has collaborated with Balmain, Alexander Wang and even Karl Lagerfeld, but when it announced it would be collaborating with the design house Kenzo, people were understandably hyped. After all, the brand is known for its outlandish prints and bold designs.
Now, judging from the first few images of the collab, the hype was warranted.
In three images released by H&M Tuesday morning, the brand has activist Amy Sall posing alongside transgender artist and poet Juliana Huxtable in tiger-print jersey tops with matching high-waisted leggings. Completing the look are long leather gloves and jacquard knitted tiger-sock shaft boots.
Then, there's Isamaya Ffrench, a make-up artist and member of a London-based performance collective, posing in a sweet-looking black leather jacket with a pink, fuzzy fabric on the inside. 
Oko Ebombo, a musician and performance artist, dons tiger-print jeans, a cap, a scarf and a cross-body bag over a parka. He finishes the outfit with padded flip-flops.
What's clear so far with this collection is it won't be for the shy or wary. What's also notable here is the models H&M and Kenzo picked to wear these bright and daring clothes. Rather than opting for well-known models, they decided on artists and activists. In an interview with Vogue, one of Kenzo's creative directors, Humberto Leon, said that was no accident, and they had decided on bringing on "people we admire, icons in their own fields, people who are influential beyond their fashion sensibility." 
For years now, in a fashion world that seems to be actively avoiding casting models of color, Kenzo has long embraced diversity in fashion, hosting some of the most diverse runways. H&M has also had a hallmark year in terms of diversity, casting a model with a hijab in a campaign and plus-size models alongside transgender models for its latest show in Paris. 
With the two brands now collaborating, no wonder this is what we got. 
The H&M x Kenzo collection drops in stores and online on Nov. 3. 
Read more: