Best Jobs for High Pay: Here Are 7 Positions in Fields With Growing Wages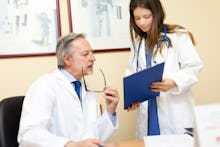 Looking to upgrade your job — and your paycheck?
It might feel long overdue. Not only have salaries stayed relatively flat for the last several decades, but even the minimum wage has remained stagnant — new data from the Bureau of Labor Statistics shows that an hour's work is actually worth $4 less today than it was 50 years ago, thanks to inflation.
The problem of pay is particularly bad for recent graduates: Young workers not only face higher-than-average unemployment, but 12.6% of new grads are underemployed, meaning their jobs put valuable skills to waste. 
But there's hope for young job seekers.
A new study has found that there are, in fact, a few high-paying professions that are actually seeing wage growth. The research, commissioned by job-search site Indeed, looked at fields with higher-than-average income, and then narrowed down the list to only those professions that saw the biggest increases in salary over the last decade. 
The original list included 26 jobs, but Mic eliminated the most obvious ones — like coders and doctors — as well as managerial jobs, since those typically need a couple years of industry experience.
Here are the seven remaining best jobs for young workers looking for higher pay, ranked by pay growth over the last decade:
1. Physician's assistant: Average salary is $97,280, salary growth is 42%
Some of these positions, such as physician's assistant, do require a master's degree, though an aspiring P.A. is able to finish schooling faster than a medical student.
What these positions all have in common is that their wages have not only grown, but they have actually matched or beat inflation in the last 10 years — a tough test that only 16% of jobs pass, according to the Indeed study.
More good news: These are not the only jobs that are going to be in demand over the next few years.
For instance, today is as decent a time as any to consider getting a pilot's license (even if the entry-level salaries for pilots aren't as high as their nearly-$64,000 median salary).
That's because Boeing projects that the world will need to hire more than 600,000 new pilots by the year 2035, with more than 100,000 of them based in North America.
Another silver lining for new grads?
English majors have cause for hope: New data from the Job Application Center — an online job board — shows a growing glut of openings in communications fields, with more than a million jobs currently available in the United States.
Read more: