Sega Is Making a Mini Sega Genesis and Mega Drive and They're Cute AF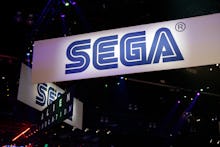 Nintendo has some competition. A tiny new console is emerging — a refreshed Sega Genesis and Mega Drive.
Nintendo announced that a miniature version of its NES Classic Edition console would release this year. Fans went apeshit. Now Sega wants to cash in on the obsession with the gadgets of millennials' childhoods. 
Sega will release new versions of its Mega Drive/Genesis — a console and a handheld — totaling in 80 built-in games in honor of Sonic's 25th anniversary, the Daily Dot reported. They are available for preorder for about $65 each. And if you're not into the 80 games (compared to the 30 on the Nintendo NES Classic Edition), the handheld device has an SD slot to input the game of your liking.
The tiny retro gaming console clash has begun.
Read more: