Meet the Porn Star Who Drinks Soylent Before Sex, AKA Silicon Valley's Greatest Victory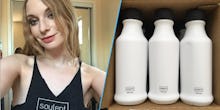 Once the gassy laughingstock of Silicon Valley, Soylent has evolved from nutrient soup for nerds to beverage of choice for porn actors. 
Well, at least one porn actress, that is.
Ela Darling — a seven-year veteran of the adult film industry and the face of CAM4VR, a virtual reality live sex webcam — drinks one or two Soylent bottles every day, she said in a phone interview. 
With 400 calories, a bottle of Soylent has fewer calories than most chain restaurant entrees (cough, cough, Quesadilla Explosion Salad from Chili's.) According to Soylent, a bottle delivers 20 grams of protein and 20% of the daily recommended intake of 25 micronutrients — not too shabby. 
Darling first tried the meal replacement drink about a year ago. That was the era of Soylent 1.5, Darling said, explaining that it came in powdered form in big bags and tasted like pancake batter. After mixing the powder up with the requisite water, she added vanilla extract and maple syrup to the concoction to improve the flavor. "I wasn't a huge fan of it at first, but eventually I kind of enjoyed it." 
It took her about a month to wean herself off the additional vanilla extract and maple syrup to Soylent 2.0, the latest iteration of the drink that comes in bottles and retails for $2.69 a pop. 
So how about those side effects? "No, I don't experience anything negative at all from it — except for people making fun of me," Darling said when asked if Soylent makes her gassy. Apparently Soylent gas can be "ferocious in sound and in smell," according to a 2015 post from one Redditor, and there's an "Unofficial Fart Thread" on the Soylent forum. 
"I don't experience anything negative at all from it — except for people making fun of me" 
The drink is a far cry from the carb-heavy food offerings at some adult film sets, said Darling. "It's sh*t you pick up at Walgreens — crackers and granola bars, occasionally the pack of red vines," she said. "Maybe there's a vegetable plate." Darling said sets for the adult film industry usually doesn't have huge spreads like regular film sets; they don't have to adhere to the same union rules. Some amateur sets don't even have water, Darling said. 
But since Darling will need to be on set for anywhere from three to 20 hours a day, she needs to stay satiated for the long haul without feeling too full. "I don't like the fullness of eating when I'm about to do naked stuff or a sex scene," she said. 
If everyone is on set for a long time, sometimes someone will order pizza. But cheese and carbs are the antithesis of sexy time, Darling said (Amen). The solution: Darling's favorite meal replacement. With Soylent, "I can do a clean and happy anal scene." Noted.
If Soylent goes mainstream, it could spell the end of food as we know it. But could it also help people avoid gastrointestinal discomfort in front of a sexual partner? Food (er, not food) for thought. 
And who knows?  Maybe Soylent will be the next greatest trend to hit the porn world. 
Read more: