Democratic Convention 2016 Day 2: Speakers, Schedule, Start Time and More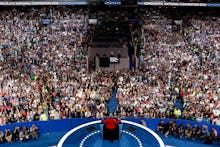 The Democratic National Convention's kickoff Monday had countless breakout moments, from Massachusetts Sen. Elizabeth Warren laying into Republican nominee Donald Trump to the fruits of Bernie Sanders' revolution — hordes of "Bernie or Bust" supporters crying in the audience (who Sarah Silverman would later admonish). First lady Michelle Obama topped off the pomp and circumstance with a mic-dropping speech. 
So how will the Hillary Clinton campaign follow those events?
Starting at 10 p.m., the latest speakers will echo the day two theme, "A lifetime of fighting for children and families." According to NJ Advance Media, the convention Tuesday night will hear from Philadelphia children's advocate Thaddeus Desmond, a fifth-grade teacher in Arkansas named Dustin Parsons and a student who works at an academy for at-risk youth. 
The Clinton campaign will also fold in its platform on gun control, with speakers like Anton Moore, who founded a youth group to talk about gun violence, and representatives from Mothers of the Movement, an organization of mothers who have lost children to gun deaths or police brutality.
Tuesday big-name politicians include Democratic National Committee vice chair of voter registration and participation Donna Brazile, former Georgia state Sen. Jason Carter and House Democratic Leader Nancy Pelosi. 
Last but not least, Clinton's husband Bill will headline the night, likely delivering a speech appealing to his ethos as former president to voice his enthusiastic support for his wife.
Read more: