'BoJack Horseman' Is Still the Best Show on TV — Here's Why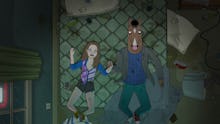 BoJack Horseman's second season set an almost impossible standard for itself. Over the course of 12 episodes, Raphael Bob-Waksberg's Netflix comedy nailed the melancholia of more dramatic sitcoms without sacrificing the madcap, visually inventive humor that made the first season work. It was like Bob-Waksberg and his team created an Arrested Development with heart.
Each episode brought something new, from the devastating Bill Cosby-themed satire "Hank After Dark" to the deeply distressing "Escape from L.A." BoJack Horseman became a clinic on how to write about depression in compelling, human-first fashion. It was the best show on both Netflix and TV as a whole in 2015.
The third season, released Friday, is sadly not as good. There are soaring highs this season, but they're stitched together by some mediocre storylines and half-baked decisions. The result is wildly uneven — but BoJack Horseman remains the best show on TV.
(Editor's note: Spoilers ahead for the third season of BoJack Horseman.)
The third season, like those that came before it, centers on a showbiz-related storyline for the protagonist (voiced by Will Arnett). In the first season, he wrote a book with his ghostwriter Diane Nguyen (Alison Brie). During the second, he starred in the feature film Secretariat, only to be replaced by a hologram version of himself in every shot. 
This year, after Secretariat got rave reviews, BoJack is thrust into the Oscar race. He enlists the help of publicist Ana Spanikopita (Angela Bassett), but finds himself quickly disillusioned with the process. He seems desperate to convince himself he's worthy of such an honor when he didn't even do the work to get there. If he does get an Oscar nomination, will he feel differently? Will he feel validated as a person? Will it do anything to make him a better person?
Like the other seasons, BoJack's story is anchored by the other characters' plots. Diane and her husband, Mr. Peanutbutter (Paul F. Tompkins) attend couples' therapy after growing apart last season. She also tries her hand at working as a social media coordinator for celebrities. Princess Carolyn (Amy Sedaris), BoJack's agent, struggles to keep her new firm afloat. Todd (Aaron Paul) reconnects with an old friend and starts a ride-sharing business with Mr. Peanutbutter.
If these stories feel disconnected from each other, and especially from BoJack, that's because they are — often to the show's detriment. Frankly, the character arcs just aren't great this season. They often lead to stellar episodes — for example, Princess Carolyn's struggle sparks a heart-to-heart with BoJack in "Best Thing That Ever Happened," a veritable duet of an episode that barely features any characters other than the two of them. But that episode works because it plumbs the characters' rich history to create meaningful tension. Princess Carolyn's tribulations at the firm before, as well as the aftermath of her talk with BoJack, aren't nearly as compelling.
Similarly, while Diane's relationship with Mr. Peanutbutter gives us the stellar abortion episode "Brrap Brrap Pew Pew," there's little of value to be found in their therapy sessions, and little comedy in Diane's social media management. The ride-sharing company story goes absolutely nowhere. Todd's only point of interest all season (over 12 episodes!) is one monologue to BoJack in episode 10, "It's You."
"You can't keep doing this," Todd tells him after he learns BoJack slept with his friend Emily (Abbi Jacobson). "You can't keep doing shitty things and then feel bad about yourself like that makes it OK. You need to be better!"
Todd's monologue and the dialogue BoJack and Princess Carolyn have in "Best Thing That Ever Happened" stand out largely because they're some of the few times this season that characters actually interact with BoJack. The main story of "It's You" and follow-up episode "That's Too Much, Man!" is that BoJack is losing touch with his friends, but that's hard to swallow as a dramatic change when he's barely connected with them all season.
If this all seems hypercritical of the supposed "best show on TV," it's only because BoJack Horseman itself set the standard. Following a nearly perfect season of TV with a flawed one is only going to make the failures feel more disappointing. Luckily, this also makes the successes feel all the more triumphant.
In addition to "Brrap Brrap Pew Pew" and "Best Thing That Ever Happened," there's the stunning almost-silent episode "Fish Out of Water," set at an underwater film festival. There's "Stop the Presses," an episode that almost entirely takes place on a customer service call. And there's the finale, packed with gasp-worthy moments, which includes a character coming out as asexual — a deeply underrepresented group on TV. (Notably, director Amy Winfrey helmed three of these best-of-season episodes, earning her a season MVP award in our book.)
Not every experimental episode works. Flashback installment "The BoJack Horseman Show" gets in some funny digs at the year 2007, but also kicks off a DOA story about BoJack's failed second sitcom that just never amounts to much. But the fact that BoJack Horseman is willing to go there, to try new things, to experiment with form and so regularly achieve greatness — that's what makes this the best show on TV.
Ambition in art should be rewarded, particularly when that ambition pays off. BoJack Horseman could have turned in a strong season with clearer stories and more satisfying payoffs for the viewer, and it would have been enjoyable. But it wouldn't have been BoJack. This show is daring, imaginative and has more to say about Hollywood, pop culture and mental health than anything else on TV. We're lucky to have it, to be able to experience it together, flaws and all.
Read more: