This BDSM Coffee Shop Will Serve Espresso, Sex Positivity and Playtime in a Dungeon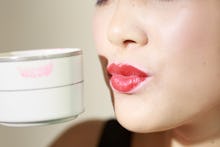 Do you take your coffee with cream and sugar? How about a side of kink? 
MoonFyre Cafe, the first Portland, Oregon, S&M-club-cum-coffee shop, will offer a hefty dose of that when it opens in August: It'll be a place for "coffee enthusiasts, members of the kink, BDSM and sex-positive communities to meet, learn and have sex," the Willamette Week reported.
The Portland coffee shop, only accessible to those 18 and older, is divided into three sections: There will be a coffee shop, an educational space and a dungeon, which is a private space where people can engage in BDSM acts. Brewing up a sex-positive atmosphere, the coffee shop will also offer discounts to sex workers. 
Like coffee but not into whips? You're welcomed at MoonFyre. "If you just wanted to come in the space and be social and not go down the rabbit hole, you don't have to," the cafe's owner and professional dominatrix Pixie Fyre told the Willamette Week. "That type of play and interaction is limited to the far back space." 
To get into the dungeon, interested customers will have to pay $5 per person (cheaper than a fancy coffee at a hipster coffee shop) to pay for condoms, lubricants and the cost of sterilizing the space. 
Fyre told the Willamette Week that  safety at the cafe is a priority. Shesaid she'll be training her staff to be equipped to manage potentially dangerous situations. 
While many people rely on alcohol as a social lubricant, MoonFyre Cafe won't be serving it. "We believe that the best (and safest) play experiences are done with clear mind and body," Fyre said in an interview with Nerve. "We advocate education and safety." 
Read more: