This is What Happened When These Couples Played the 36 Questions Game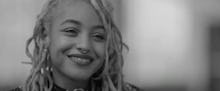 You think you know your significant other, so put it to the test.
In January 2015, a set of questions surfaced from an old science experiment to see whether it was possible to make two people fall in love. Part of a study by Arthur Aron (and others), the questions were designed to evaluate interpersonal closeness. When a contributor to the New York Times Modern Love column wrote about trying the questions with a stranger to see if they would fall in love, the exercise went viral. Soon, strangers, significant others, fiancés and domestic partners were trying them out on each other.
The exercise was designed to "foster intimacy" — you answer a bunch of deep, personal questions about yourself, each other, and life in general in under two hours. Top it off by staring into the other person's eyes for four minutes, and voila! Love! Or, that's the idea, at least.
At a time when dating and intimacy can seem more impersonal than ever, it makes sense that we would seek out ways to bring back the depth in connection we envisioned for our adult romances. I'm not saying modern dating is bad all around, but swiping right and left on a smartphone to find potential people to fall in love with is not exactly the Prince Charming meet-cute scenario Disney movies portrayed for me as a kid.
For some, dating — online or in person — can seem like a chore. There are so many people to sift through before you find one person you enjoy spending an extended period of time with, it would be helpful to know if the person sitting across from you is a good fit for you right away. After the 36 questions started circulating, some thought it might be a way to figure out if certain people were worthwhile dating early on.
Stephanie Winstead*, 23, is active on dating apps. She hadn't tried the 36 question game before, and decided to try exchanging answers to a set of personal questions with someone she'd met through Bumble and had been texting with on and off for about a month.
"He suggested it—I'd always wanted to do it with someone and have almost suggested it to others," she said. "I feel like it's a super quick way to get everything out on the table."
For Winstead, the questions started out showing a potential good match. They had similar answers. But then things got a bit awkward, and they didn't end up meeting in person.
"It was too much too soon," she said.
Relationship expert and CEO of Wevorce Michelle Crosby believes that questionnaires like these can be useful when doing them with someone you are already in a relationship with, but it might not be as helpful if you're using it as a filter for potential dating partners.
"There could be benefits to doing an exercise like this early on in a relationship as a method of supporting the initial attraction you may, or may not, have felt with this person," Crosby said. "It could help you decide if you are a fit or not ... If there wasn't a spark to begin with, I doubt these questions will create one."
For people already in committed relationships, the exercise can help both partners reconnect or just learn more about each other. Sara Davis*, 23, did the 36 questions with her long-distance boyfriend whom she'd been dating for a year. The two were on a long bus ride while he was visiting her, and she thought it would be a fun way to pass the time.
For Davis, the questions didn't reveal anything surprising about her partner.
"You definitely learn some things about each other, but I think, if you've been dating someone for a while, you learn more about yourself," Davis said. "Making yourself answer those questions, it's a very good personal exercise, which I guess isn't what it's intended for."
There are other questionnaires that can be introspectively informative. Brittany Headrick*, 25, recently did the New York Times "13 questions to ask before you get married" exercise with her fiancé. The two have been engaged for a couple of months and are just at the beginning of planning their wedding. For Headrick, going through the exercise only confirmed what she already knew about her partner.
The questions asked simple logistical scenarios that will come up in marriage, like how much you would pay for a pair of shoes, a car and a couch, and more philosophical problems that might arise in a marriage like, how do you deal with disputes? Headrick said she found herself aligned with her partner at almost every answer.
"It was a really cool confirmation that we are perfect for each other in a way that I wouldn't have thought to ask," Headrick said.
For some, these questions help weed out who they would or would not like to date, and, for others, they are a way to find out more about the person they've already committed to. Crosby doesn't believe these questions will make you fall in love with anyone you aren't inherently attracted to, but she recognizes they can be helpful to discuss when you've already committed to someone. 
"I think asking questions while in a relationship can prompt spontaneity, but to use it as a tool to force a connection is doubtful," she said. "Relationships should unfold in a natural way, not be treated like a job interview."
*Some names have been changed to allow sources to speak freely on personal matters.
Watch as complete strangers open their hearts and check out the entire experiment in this video from Ray-Ban: