Goldman Sachs May Face Charges Over Its Handling of Leaked Regulatory Documents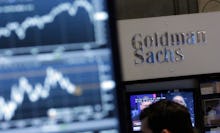 The Federal Reserve is planning an enforcement action against investment bank Goldman Sachs regarding a leak of government documents to former bankers at the firm, sources told the New York Times in a story published Tuesday. 
Goldman already has an old nickname: "Government Sachs," a reference to the so-called revolving door of Goldman staff moving to and from public service positions. The new potential charges — which revisit a two-year-old case — suggest the Federal Reserve wants to hammer home a message: Cozy relations between bankers and regulators are not welcome.
The Fed is one of several governing bodies tasked with regulating Wall Street, including big banks like Goldman Sachs.
The problem? It can be tough preventing old colleagues from sharing information. 
The case in question goes back to 2014, when a newly-hired Goldman banker was assigned to advise one of the banks he had previously regulated while working at the New York Federal Reserve. A year later, Goldman Sachs paid a $50 million settlement to New York State's financial regulator — after it was found that the employee had received confidential documents about that bank from an old colleague still at the New York Fed. 
It was a relatively cut-and-dried case at first: Goldman's tracking systems flagged the document as soon as it was emailed, both the New York Fed and the Goldman employee were promptly fired, and they both ultimately plead guilty to theft of government property.
Now, the leak is being revisited by the Fed's board in Washington, a separate unit from the New York Fed. And this case is not even the only legal action Goldman is facing this week.
While the revolving door is hardly unique to finance, it does pose a conflict of interest, especially when banks hire former regulators.
One 2013 study from the Project on Government Oversight found that between 2001 and 2010, more than 400 Securities and Exchange Commission alumni disclosed that they planned to represent a boss or client before the agency.
That study also noted that ex-government workers don't have to issue disclosures once they have been in the private sector for two years or longer, suggesting that former regulators who now work at banks are even more commonplace than the data might reveal.
Read more: