Hillary Clinton's Women Supporters Reflect on What Her Historic Nomination Means to Them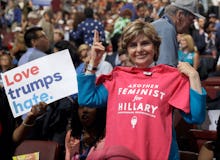 PHILADELPHIA — It's wasn't even noon — more than five hours before delegates at the Democratic National Convention were slated to officially nominate Hillary Clinton for president — and Kelly Jacobs was already crying.
The Mississippi delegate and Hillary Clinton super-fan had hoped for this moment in 2008. Eight years later, she can barely get out the words to describe how she feels to witness Clinton make history as the first woman presidential nominee of a major political party.
"It's beyond exciting. I can hardly wait. It doesn't feel real," said Jacobs, who was wearing a purple dress emblazoned with Clinton's face, as well as a rhinestone necklace spelling out Clinton's name.
The historic nature of Clinton's nomination has not been a main focus of this year's DNC, which has instead been roiled by Bernie Sanders supporters mad that their candidate isn't the nominee.
But for women like Jacobs — who made her dress in 2014 hoping Clinton would run this year — witnessing a historic moment for women's rights in America is no small thing.
"I was a delegate for her in 2008, and she didn't win the nomination," she said. "So now we just need to tone down the sexism and have people get over it and look at how qualified our Democratic [candidate] is for president and what she will bring to the world."
Kat Gordon, a Clinton delegate from Florida, says she wished Rep. Shirley Chisholm — the first black woman elected to Congress and the first woman to run for the Democratic presidential nomination, in 1972 — were alive to witness Clinton's feat.
"Shirley Chisholm can rise from the grave in Daytona because she was one of the first to run," said Gordon, an educator who was also a Clinton delegate in 2008.
Dianne Krumel, a Florida delegate who was also a Clinton delegate in 2008, said witnessing history "makes my heart soar."
"I can't wait to be part of history," said Krumel, who was decked out in a sequined cowboy hat dotted with Clinton buttons and American flags. "And I know I'll be crying tonight, boo-hooing, screaming and yelling like we've been doing."
Delegates will meet at 5 p.m. Eastern in the Wells Fargo Center to begin the roll call vote.
Clinton comes into the night with 2,807 delegates, while Sanders has 1,894, per RealClearPolitics. She will officially become the nominee once she surpasses 2,382 delegates in the roll call.
Read more: