Bill Clinton's Clash With the Movement for Black Lives: Everything You Need to Know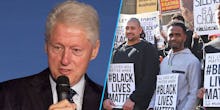 Back in April, former President Bill Clinton was confronted by allies of the Black Lives Matter movement (not members of the movement itself) as he campaigned for wife Hillary Clinton to a crowd in Philadelphia. But instead of presenting himself as Bill Clinton: Progressive Husband of Future Presidential Hopeful Hillary Clinton, he played the old white curmudgeon.
Protesters shouted, "Black youth are not super-predators," a reference to a 1996 speech by the then-first lady. They balked at her husband's 1994 Violent Crime Control and Law Enforcement Act, a crime bill that's credited with increasing the country's prison population by more than a million.
But instead of apologizing for governing that hurt the black community, Clinton chided the protestors for speaking over him.
"Can I answer?" he asked the shouting crowd in Philly. "Here's the thing. I like protesters, but the ones that won't let you answer are afraid of the truth."
Then Clinton doubled down after already slipping into condescension, saying, "I don't know how you would characterize the gang leaders who got 13-year-old kids hopped up on crack and sent them out into the street to murder other African-American children. Maybe you thought they were good citizens. She didn't."
And because it's not a good movie until this happens, Clinton went all in. First he said Black Lives Matter activists are defending murderers. Then, referencing Hillary Clinton's trip to Africa to reportedly warn African leaders about collaboration with exploitative countries, the former president said, "I'll tell you another story about a place where black lives matter: Africa."
Open mouth, insert sax. 
Read more: