Kendall Jenner Just Defended Free the Nipple in the Most Kendall Jenner Way Possible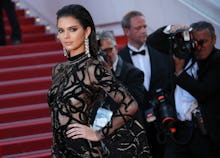 Frequently braless beauty Kendall Jenner has formally issued an announcement regarding her nipples. And because she is a member of the Kardashian-Jenner brigade, this announcement was obviously made via her premium-access app.
"I really don't see what the big deal is with going braless!" she wrote in a post entitled "FREE THE NIPPLE!" on Monday. "I think it's cool and I really just don't care! It's sexy, it's comfortable and I'm cool with my breasts. That's it!"
Jenner's nipples have made quite a few notable public appearances, from the streets of New York City to the fashion runways of Paris. In the new post on her app, she said that piercings have added a fun and festive element to the sport of nip-baring.
"Another perk of going braless? It's also a fun way to show off my different nipple rings!" she wrote. "[Jewelry designer] Jacquie Aiche made me a couple of pieces that are really sick — like a pair of angel wings."
A pair of angel wings? Sounds like the perfect accessory for two nipples that were clearly born to fly — angelic and perky and free!
Read more: