Meet the Data-Driven App That Might Beat Yelp at Its Own Game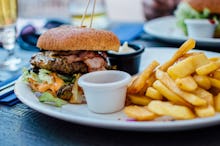 There are more than 25,000 restaurants in New York City. The five boroughs present the quintessential paradox of choice: The length of the list underscores how "the culture of abundance robs us of satisfaction," as author Barry Schwartz put it. It's all just too much.
The creators behind a data-driven app called Renzell are fixing for a remedy. "In the world of ratings, restaurants have been left behind in data science," Jacob Lewis, who runs product for Renzell, said over the phone. "[Renzell] uses a data-driven methodology to calculate ratings for restaurants." Renzell first launched in New York City; data-based ratings of 53 New York restaurants will be available to the public for the first time in September. On Tuesday, the company announced it will expand to Chicago and San Francisco. 
Think of Renzell as the happy medium between Yelp and Michelin, Lewis said. Like Yelp users, Renzell users rate restaurants. But before they do any rating, aspirational Renzellers must meet a set of requirements to gain membership — a notable difference from Yelp. While media folk and restaurant industry professionals can't join up, fine-dining foodies are welcome to apply. The app's members will be "people who really appreciate the experience of restaurants," Lewis said.
To score a restaurant, members must complete a comprehensive survey with more than 60 questions. The survey is holistic, Lewis said, and asks about everything from a restaurant's lighting to its service to its cocktail quality. 
And not every dive bar or burger joint will make the cut in the first place. A restaurant has to meet a set of 32 criteria before it will be available for users to rate. This helps whittle down the restaurant list for Renzell's database and gives trustworthy people the chance to rate them. A minimum of 25 users must rate a restaurant in order for it to make Renzell's aggregated list. 
Sure, an app like Yelp can help a hungry consumer narrow down the options, but it doesn't offer any level of expertise or objectivity. A one-star review given simply because a waiter-in-training spilled a glass of wine can skew a restaurant's overall star count. And prestigious grants like the Michelin Guide and lists like "The World's 50 Best Restaurants" don't offer much objectivity, or transparency, either.  
If Renzell is able to scale down a city's overwhelming food options like its team says it will, your restaurant bucket-list may soon become a whole lot more organized. 
Read more: