Miss Cleo, TV Psychic of "Call Me Now" Fame, Dead At the Age of 53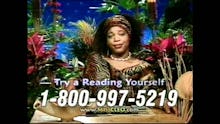 Youree Dell Harris, best known for her public persona as TV psychic Miss Cleo, died on Tuesday at the age of 53, TMZ reported.
A representative told TMZ Harris was diagnosed with colon cancer. The rep added Harris was released from a hospital last week to a hospice center, and passed away surrounded by her family and friends.
Harris was perhaps most famous for TV ads advertising over-the-phone psychic, spiritual and shamanistic services. In the ads, Harris spoke with an imitation Jamaican accent with the famous tagline "Call me now!"
Entertaining as the ads were, scientists are virtually unanimous paranormal powers are physically impossible given the observable fundamental laws of physics and the universe. According to BuzzFeed, an investigation by Court TV found most of the people who answered the phones at Cleo's service were voice actors utilizing scripts, and in 2002 the Florida Attorney General's office released paperwork establishing Harris was not from Jamaica but Los Angeles. Harris stuck to her guns in a later interview with the Advocate, saying she had Jamaican roots.
In 2002, Consumer Affairs reported, Miss Cleo-affiliated companies Access Resource Services, Inc. and Psychic Readers Network settled with the Federal Trade Commission over claims of "deceptive advertising, billing, and collection practices." Under the terms of the settlement, the two companies forgave $500 million in customer bills, returned uncashed checks and paid a $5 million fine — a relatively small price to pay, given the two companies billed callers $1 billion over three years and managed to collect roughly $500 million of it before FTC stepped in.
While countless Twitter users went for some variant of the easy joke that Harris "should have seen this coming," others stepped in to defend the late psychic against the cheap blows.
Read more: