Michelle Obama Spoke Her Black Feminist Truth at the Democratic National Convention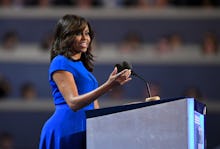 In a rousing speech at the Democratic National Convention in Philadelphia Monday, first lady Michelle Obama proved that no one is better suited to convince young women — especially young black women — that it's time to cast cynicism aside and support Clinton, who might become the nation's first woman president.
Obama argued that we need "leaders like Hillary Clinton, who has the guts and the grace to keep coming back and putting those cracks in the highest and hardest glass ceiling until she finally breaks through, lifting all of us along with her. That is the story of this country. The story that has brought me to the stage tonight."
In her speech, the first lady talked about the power of womanhood. She reminded us that amid rampant sexism during this campaign season, women like Clinton have remained resilient. And, ever so subtly, she reminded black women that she, too, has walked an uphill battle against racism to become the self-assured, unapologetically black first lady that she is today. The speech, one of Obama's last in the White House, cemented her status as one of the foremost black feminist role models for young women.
If you look at how the media portrayed Michelle Obama in 2008, you'll see that she has fought negative stereotypes about herself for years. At the time, Sen. Claire McCaskill said all Obama "has to do is be likable" and that she shouldn't "push too hard to convince voters that her husband was the right choice," the New York Times reported. She was branded as "unpatriotic" in February of that year for saying, "Let me tell you something, for the first time in my adult lifetime I'm really proud of my country."
Then, on July 21, 2008, the couple made the cover of the New Yorker in an illustration called "The Politics of Fear," where Michelle Obama was depicted as a gun-toting, Afro-wearing terrorist (alongside her Muslim husband). The Obama campaign panned it as "tasteless and offensive." David Remnick, editor of the New Yorker,  defended the choice, saying the cover was intended to "hold up a mirror to the the prejudice and dark imaginings" of the Obamas' past and present.
Michelle Obama was also widely painted as an "angry black woman." In June 2008, Fox News commentator Cal Thomas added her to a list of all the "angry black women" he sees on TV. Of course, Bill O'Reilly joined the chorus that September, saying, "Now I have a lot of people who call me on the radio and say she looks angry. And I have to say there's some validity to that. She looks like an angry woman." Jodi Kantor, a political reporter at the New York Times, wrote a book about the Obamas in 2012, which detailed how the first lady allegedly had contentious relationships with White House advisers.  
Yet Obama pushed aside the critics to become an icon. Through her initiatives as first lady, she's advocated for healthier families, better education for adolescent girls, and improved provision for service members and their families.
Over the last eight years, we've yasss-ed her epic first-lady fashion sense. At Black Girls Rock in 2015, we applauded her bold statements on empowerment for young black girls.
It was clear Monday night that Michelle knows first-hand the sexism that Hillary Clinton has had to deal with. The former secretary of state has fought off sexist rhetoric and imagery for years, and it reached a boiling point at the Republican National Convention in Cleveland last week. She has been lambasted throughout the 2016 campaign trail. She's been called "unlikable" so. many. times. Many say she's not authentic enough, that she's too "establishment" to change America for the better.
"And look, there were plenty of moments when Hillary could have decided the work was too hard, that the price of public service was too high, that she was tired of being picked apart for how she looks, or how she talks, or even how she laughs," Obama said.
What we witnessed was a flash of "black girl magic" that we've come to expect from Michelle Obama. By President Obama's second campaign run, the first lady had shrugged off all the speculations, telling CBS News' Gayle King that, "I just try to be me." And black women like me will forever rejoice in Obama's self-assuredness and strength. She is the auntie, cousin and BFF black girls everywhere always wanted.
The first lady's powerful speech also marked the beginning of the end of the Obamas-take-Washington. We will miss seeing them step off Air Force One with Malia and Sasha. We'll remember all the times we swooned over her marriage and their displays of affection because #blacklove #relationshipgoals. We will truly miss the image of a black family living in the White House in the United States of America.
"The story of those generations of people who felt the lash of bondage, the shame of servitude, the sting of segregation, but who kept on striving and hoping and doing what needed to be done so that today, I wake up every morning in a house that was built by slaves," Obama told the DNC crowd.
But now she'll be leaving that house. And one special group of people will miss her dearly: those kids aged eight and under who, for their whole lives, have only known what it means to have a black family in the White House. They're already asking the right questions about the future of this country.
Read more: