Here's Why Hillary Clinton Needs the Stock Market to Keep Going Up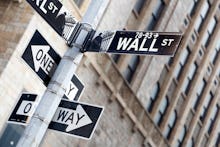 Democratic presidential nominee Hillary Clinton may want to keep a close eye on the stock market over the next few months.
Historically, when stocks are higher during the three months leading up to a presidential election, the party already in power wins the election 86% of the time, judging by 19 of the last 22 elections, according to research compiled by Strategas Research Partners and Bloomberg. 
The S&P 500 index of large U.S. stocks is currently up about 4% over the last 3 months, which suggests Clinton would be in good shape if the election were held today.
But a lot can happen between now and November.
In fact, Clinton might have reason to be worried: Some measures suggest the current bull market is running out of steam. Earlier this month, the Dow Jones broke records seven days in a row — and that's on top of a multi-year run-up in stock prices.
Generally, what goes up must come down. Over the weekend, an analyst at Deutsche Bank said as much in a letter to clients, predicting a "5% to 9% decline" in stock prices between now and the election, according to Business Insider. 
Now, attempts to use market movements to predict elections are not foolproof, and the reverse — trying to use election outcomes to predict stock returns — tends not to work. (One survey from E*TRADE finds that investors seem a lot more comfortable with the idea of a Clinton presidency versus a win by Republican nominee Donald Trump, for what it's worth.)
Setting those matters aside, however, the latest Strategas data suggests a fairly sticky historical correlation between positive stock returns and elections favoring the incumbent party.
Why does this happen?
One school of thought is that negative returns make people want to see a change of power, while positive ones do not.
Then again, it is hard to infer causality and pinpoint the chicken versus the egg: Another possibility is that — as it grows more likely that an incumbent party will lose — the stock market tends to do worse.
Finally, there are exceptions to every rule. Just look at Democratic incumbent Jimmy Carter's defeat in 1980, despite a 6.7% rise in stock prices during the three months before the presidential election.
Read more: